Another witness took the stand when the Preliminary Inquiry (PI) into the murder charge against Carol Ann Lynch continued yesterday and the prosecutor reported that five more witnesses are due to testify.
Lynch has been charged with murdering her husband, Farouk Razack, in 2007 and the PI into the charge will determine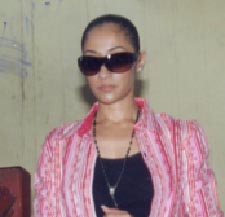 whether there is enough evidence for her to face a trial in the High Court.
At least 15 witnesses have already testified in the PI and yesterday Prosecutor Bharat Mangru told Chief Magistrate Priya Sewnarine-Beharry that seven witnesses remain. However, he said, one of the witnesses is currently in the United States while another is also out of reach. Hence, he concluded, only five witnesses will actually be able to make appearances.
Crime scene photographer Lakeram Datt gave evidence on his involvement in the investigations into Razack's murder yesterday.
During his testimony, Datt presented photos which were examined by both the prosecution and defence teams. As the photos were handed to her attorney, Peter Hugh, Lynch caught sight of them and was clearly affected.
In an obvious attempt to remain composed, the woman held a hand to her mouth and took a deep breath. When asked by the magistrate if she would like to view the photos herself, Lynch wordlessly indicated that she did not. As her case progressed, the woman began to cry silently and quickly wiped away the tears from her eyes.
Before setting a date for the continuation of the preliminary inquiry, Magistrate Sewnarine-Beharry ordered the prosecutor to take the opportunity to make checks for the remaining witnesses and advised that he send radio messages to summon those who were missing.
Lynch's matter will be called again on April 24 at 10 am, when more witnesses will take the stand.
Around the Web