Twenty-one law enforcement officers last Friday graduated from a United States Drug Enforcement Administration (DEA) airport interdiction course at the Guyana Police Force Training Centre.
The course was funded under the Caribbean Basin Security Initiative (CBSI), which was launched by US President Barack Obama at the Fifth Summit of the Americas in Trinidad and Tobago in 2009 and seeks to combat transnational crimes within the region.
Speaking at the ceremony, US Ambassador Brent Hardt told law enforcement officers that the illicit trafficking of drugs, arms and people not only threatens public safety but dwindles economic progress, and he asserted that the completion of the course represented a step toward the strengthening Guyana's border security.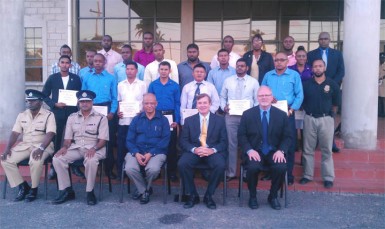 "By sharing best practices on the structure and procedures of airport interdiction units, performing computer data analysis, interviewing and conducting seizures operations, we boost law enforcement capacity, enhance our security relationships and ensure that criminals do not use our airports for illegitimate purposes,"  he stated, adding that transnational trafficking has emerged as a major threat to governments and security throughout the Carib-bean "as the flow of drugs… generates large profits for criminals networks that in turn distort economics and undermine the rule of law, making it harder for countries to reach their national and economic  goals."
Hardt noted that through the CBSI the United States had delivered an integrated biometrics fingerprint system to digitise Guyana's fingerprint records system and introduce multilateral information sharing within Caricom and with US law enforcement agencies. He added that implementation of the system within the region has already enabled cross-border law enforcement cooperation and contributed to numerous arrests.
"CBSI also contributed US$50,000 to support the International Organization of Migration's project with the Guyana Registrar's Office to create a searchable database of birth certificates," he said, before adding that together these efforts make it harder for criminals to evade law enforcement, especially when crossing borders through the use of false identities.
He also said that the US Coast Guard is also actively working with the Guyana Maritime Admin-istration (MARAD) to improve policies regarding International Ship and Port Security standards. "We anticipate even closer collaboration in the coming months as the Drug Enforcement Agency continues to deepen its engagement with Guy-anese counterparts to strengthen their capacity and pave the way to even closer cooperation," he said.
Home Affairs Minister Clement Rohee thanked the US government for its support before congratulating the thirteen policemen and women and the eight Customs Anti-Narcotics Unit (CANU) officers who participated in the course.
He said the course was a "testimony to the necessity of ongoing training of law enforcement officers who must develop a high level of specialisation."
"This specialisation in training is necessary due to the fact that in today's world organised crime and gangs they engage in specialisation.
This makes it more necessary for law enforcement officers to be up to speed and to be just as competent as their counterparts are in other countries to identify people who are engaging in illegal activities," he stated.
He added that airports and other places where large amount of people congregate should be under the "careful and watchful eyes" of police. "They must be able to apply what they have learnt effectively."
"We appreciate this very much," he said, speaking of the course.
Rohee also mentioned that the government would shortly be presenting to the public the National Drug Strategy Master Plan for the next five years.
Around the Web