Another airline has entered the Guyana market and from July this year is hoping to bring cheaper flights for Guyanese travelling to or from Miami, St Maarten, Jamaica and a list of other destinations.
Insel Air yesterday announced that all relevant clearance was given as necessary documentation was submitted and that its flights to Miami via Aruba or Curacao would commence on June 18 of this year.
Insel Air is a Dutch Caribbean Airline that serves as the flag-carrier of Curacao.
With Roraima Airways serving as the Ground Handling and General Sales Agent the airline hopes to not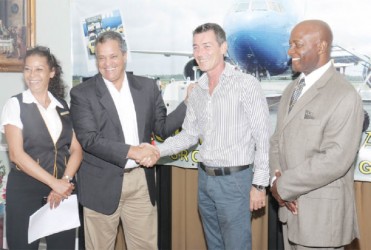 only attract travelling Guyanese but tap into the European tourism market selling sun, sand and sea in the Dutch islands and a natural eco-tour here in Guyana.
The airline also boasts that Guyanese will eliminate the long immigration and customs lines in Miami since preclearance is had in both islands as inspections are performed by US Customs and Border Protection agents there.
"When you land in Aruba you will clear US customs there so you bypass the huge buildup of persons in lines as you would know happens in Miami… The preclearance will save a lot of hassle. It's a real smooth transition process," CEO of Roraima Airways Gerry Gouveia told a press conference yesterday.
"It is going to create a lot of business opportunities in Guyana… This is breaking new ground. It's changing the paradigm and this new airline sets new fantastic opportunity in terms of our tourism product, creating an entire new dispensation," Gouveia said.
Chief Commercial Officer of Insel Air Jurgen Lippinkhof assured Guyanese that his company was here for the long haul and since it was a scheduled and not a chartered carrier, concretized guarantees of obligatory surety is given.  He promised that "God forbid for any reason we have to leave," passengers would not be left stranded and out of their money. "We take care of our passengers. Check our records, it is there, we don't leave our passengers… and we fly over one million passengers," Lippinshof asserted.
He said that before venturing into Guyana, significant feasibility research was done and informed that from those results it was noted by European travellers that Guyana would be a preferred destination as it is the only English-speaking country in South America and they wanted a country where the language barriers were less. "We have discovered, this is the hidden pearl.
It is the only country that speaks English and people are afraid to go to countries where they speak English and they [the populace] don't," he said.
Further the airline's CCO noted that the same business strategy approach used to enter the Suriname market sometime back was being applied in Guyana.
He explained that flights will operate out of Guyana twice weekly and as business blooms, will increase. He informed that Insel Air has 13 aircraft but also partners with Air France out of Europe and has connection arrangements with other airlines to destinations it doesn't fly to.
Insel Air flies to and from Aruba; Bonaire; Maracaibo, Barquisimeto and Caracas in Venezuela; Curacao; Haiti; Miami; Santo Domingo; St Maarten; Suriname and Valencia, Spain among other destinations.
The airline's introductory fare will be US$270 round-trip to Aruba and US$345 to Miami all taxes included. Passengers are allowed one piece of checked luggage at 23 kg and one hand piece at 10 kg.
However, should a traveller want to add an additional piece this may be done at a cost of US$40 for a 23 kg piece.
Around the Web