An unidentified man was crushed to death yesterday afternoon after a truck in which he was hitching a ride overturned on a hill in Region Eight.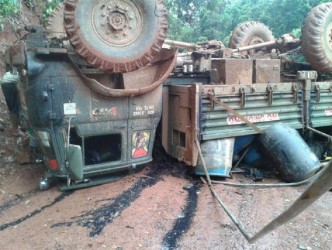 Mark Grimmond, the owner of the vehicle, said his truck was headed to Olive Creek, Region Eight, when it overturned on a hill. He said the driver of the truck related to him that he had lost control of the vehicle while going up a hill and it overturned. The accident occurred around 2pm.
Grimmond said the ill-fated passenger had stopped the truck along the trail and asked for a ride.
He then jumped into the tray of the vehicle and was subsequently pinned under the truck after it overturned.
The truck was carrying fuel and groceries into the interior location.
Around the Web