The $9.7 B allocation to the Ministry of Labour, Human Services and Social Security in this year's National Budget was on Thursday approved by the Committee of Supply and the number of old age pensioners has been listed as 42,500.
Of the sum, $263 M went to the Strategic Planning, Admin and Human Services department, $8.7 B to Social Services, $429.9 M to the Labour Administration and $382.5 M to the Child Care and Protection Agency.
The bulk of the questions came from APNU member Volda Lawrence.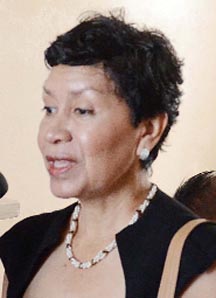 Asked by Lawrence if the pension section of the ministry is fully staffed, Human Services Minister Jennifer Webster responded in the affirmative. "I am advised that we do have a full staff complement now", she said. Subsequently in response to a question from Lawrence on which buildings have been identified for maintenance this year, the minister said that work will be done on the Mahaica hospital, the night shelter, the Guyana Women Leadership Insti-tute building and the Palms.
In responding to additional questions from Lawrence the minister said that there are 9500 beneficiaries in the public assistance programme which will cost $560.5 M for 2014, approximately 42,500 pensioners which will cost $6.6 B and another $150 M will be going towards the electricity subsidy for pensioners.
APNU's Annette Ferguson asked if domestic violence training for probation officers would be done this year.
The minister explained that there will be on-the-job training for officers as is done on an annual basis and this extension to training as it relates to elderly care.
AFC's Valerie Garrido-Lowe asked for an explanation for the $8M increase in the allocation for security.
Minister Webster explained that towards the end of last year, the ministry went to public tender and a new security firm – RKs – had been contracted for some of the locations.
She also said that there is a new rate of $370 per hour for out-of-town areas and this would apply to the shelter for the homeless at Onverwagt.
She said that this provision caters for the Mahaica Hospital, the Mahaica Children's home, the Onverwagt shelter and the home where women are kept.
Responding to a question from APNU's Vanessa Kissoon on monies allocated to the Legal Aid service in the various regions, the minister said that this year the sum of $44.08 M was allocated.
She said that the breakdown by region can be provided at a later stage.
Minister of Labour Dr Nanda Gopaul in response to a question from deputy speaker Basil Williams on whether reports from the labour market section are available to the public said that there is a quarterly news bulletin which can be made available to the National Assembly.
For 2013 $9.182 B was allocated for this sector.
Around the Web