A Guyana Revenue Authority officer accused of trafficking in cocaine via mail was yesterday remanded to prison when he appeared before the Georgetown Magistrates' Courts.
Twenty-eight-year-old Clive David of Lot 2 Princes Street, Georgetown denied that on April 9, at the Guyana Post Office Corporation on Robb Street he trafficked in a narcotic by posting 647 grammes of cocaine, concealed in envelopes.
The court learnt that on the day in question at about 13:00hrs, police attached to the Narcotics Branch at Eve Leary conducted a perfunctory check on an outgoing mail bag bound for the John F Kennedy (JFK) Airport. During the check, 5 sealed envelopes containing cocaine were discovered. The suspected cocaine was sealed and lodged and, acting on information received, the police arrested David, a Customs Officer of nine years. According to Prosecutor Jones, David was attached to the GPO mails branch.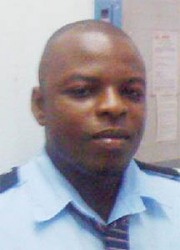 Jones added that the man was questioned and admitted that he had collected the envelope from a "Yankee" to post to the United States on the promise that he would be remunerated US$1,000 for the deed.
The alleged conspirator was arrested and questioned but denied that he had given the illicit drug to David.
In a bail application for David, attorney-at-law Lancelot Ferreira maintained that his client was an unsuspecting victim who had simply been trying to help another person and had no knowledge of the cocaine contained within the envelopes. Ferreira further argued that the "Yankee" man had never been contacted but Prosecutor Jones informed the lawyer that the man had indeed been taken into police custody and questioned. The police's investigation in that regard, Jones said, was complete. However, the overall investigation remains incomplete.
Jones objected to bail, emphasizing that the police had a "zero tolerance" policy towards corruption. He added that no special reasons had been given by the defence and said that there was a signed confession from the defendant stating that the man had indeed posted the envelopes despite knowing they contained drugs. "The defendant is an official at GRA for 9 years," Jones said. He continued, "He ought to have known better, being a professional."
David was remanded to prison by Magistrate Ann McLennan until May 19 when he will return before Chief Magistrate Priya Sewnarine-Beharry.
Around the Web