An early morning smash-up at the corner of Charlotte and King streets yesterday left a passenger bus and a car badly mangled and the metal doors of a store dented.
Luckily no-one was seriously injured in the accident but according to reports several persons from the mini bus were taken to the Georgetown Hospital for medical attention for the minor injuries they sustained.
Persons in the area told Stabroek News that sometime after 7 am, a speeding Route 40 (Kitty/Campbell-ville) mini bus was proceeding north along King Street while motor car PPP 3170 was heading west on Charlotte Street when the two collided. The car was also speeding, this newspaper was told.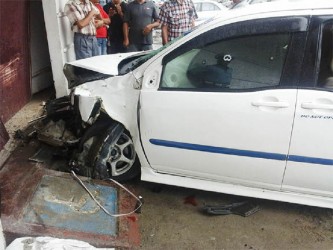 So violent was the impact that the minibus toppled and ended up on its side while the car crashed into Ashok's Variety Store. At the time of the accident the metal doors in front of the store were locked.
When Stabroek News arrived at the scene a policeman was directing traffic which had slowed to a crawl as the curious rushed to get a glimpse. The mini bus had already been righted.
The top and right side of the mini bus was smashed in. The front of the bus was also damaged. A woman who identified herself as the mother of the owner said that the bus driver along with the other driver had been taken down to the Brickdam Police Station.
The woman said that on receiving news of the accident she immediately travelled to the scene and when she arrived, the bus had already been turned over. She said that unknown persons had already helped themselves to one of the windows. She said that based on what she was told, the car was speeding at the time of the accident and her son attempted to swerve but still collided.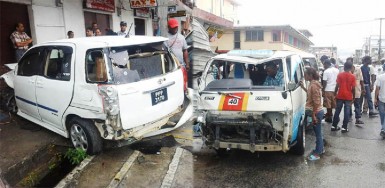 The car, was still in the same position it ended up after the smash-up. A policeman and persons connected to the store were keeping watch, apparently to ensure that no attempts were made to enter the store. Based on the damage to the car, it appears as though it was hit to the back and the impact sent it flying into the store front. Given the type of material that the doors were made of, the front of the car was badly damaged.
Persons in the area told this newspaper that accidents at that corner are a regular occurrence especially since vehicles travelling on King Street often refuse to stop though those using Charlotte Street have the "right of way".
They suggested that a traffic rank be placed there to ensure that all motorists observe the traffic laws.
Around the Web