Two trucks belonging to the two top beverage companies in Guyana were yesterday involved in an accident on the public road at Evergreen, Essequibo Coast.
According to reports, the Banks DIH Ltd and Demerara Distillers Limited (DDL) trucks collided around 9.30 am.
This newspaper was told that the DDL beverage truck bearing number plate GMM 797 was heading south on the road while the Banks beverage truck with number plate GMM 9954 was going in the opposite direction when the accident occurred. Both trucks were loaded with beverages and they were in the process of distributing the products to various shops and supermarkets in the area.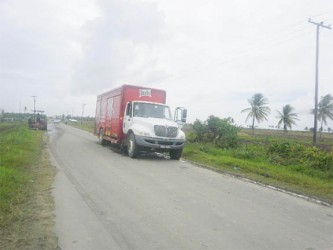 Witnesses said the DDL truck had two persons including the driver in its cab at the time of the incident, while the Banks DIH truck had two persons. There were no reports of serious injury, but the driver of the DDL truck was taken to the Oscar Joseph District Hospital at Charity, since he sustained injuries to his feet.
One man told this publication that he was at home when he heard the impact and upon checking, saw the DDL truck in a trench next to a rice field.                   "As soon as me hear de sound I run out to see is wah. When I reach pun de road, I see the gas tank for the Banks truck on the road and the other truck went in the trench deh," the man said pointing. "Me can't seh if anyone of the truck bin speeding."
Another witness said it appeared that the DDL truck had dodged from a pothole at the side of the road. That truck was severely damaged while the Banks DIH truck only had its fuel tank ripped out.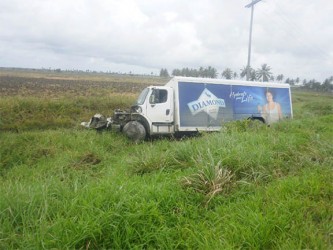 When Stabroek News visited the scene, spilt fuel from the tank was visible on the road and passing vehicles were proceeding with extra care.
The driver of the Banks DIH truck who was identified as 36-year-old Charran, refused to speak with the media.
Residents of the area voiced their concern in relation to the pothole in the road and one man said, "Long now that thing is there and nobody is doing nothing to it. Now look what happen. It could have been worse."
The police are investigating.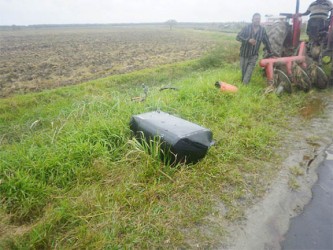 Around the Web