Port Kaituma chainsaw operator, Victor Peres yesterday shot himself fatally after gunning down his wife, Pamela Martin.
During the wee hours of the morning, residents of the northwest community were awakened by the sounds of a heated argument followed by three gunshots.
According to the police, investigations are being carried out into a murder/suicide which occurred at around 4:20am yesterday and which claimed the lives of Peres, 62, and Martin, 39. Police said that an improvised shotgun and three empty cartridges were found at the scene.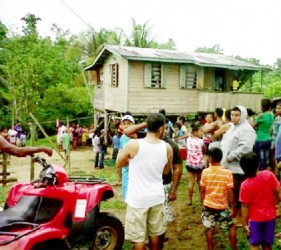 This newspaper understands that the couple, who have four children, the eldest being a 16- year-old girl and the youngest being a 5-year-old boy, had an argument over an extramarital affair on Martin's part which her sister, Christine Martin, said she believes subsequently led to the shooting.
According to reports, Pamela, a domestic worker, left for work on Saturday morning and never returned home until 7:00 pm on Sunday.
Christine said she went to visit her sister on Sunday afternoon but met Peres at home alone with the children. She said she inquired about her sister's whereabouts and the man informed her that her sister had left their home since Saturday morning and had not returned as yet.
The woman said she then asked Peres to call her sister since she could not at the moment. Christine added that when she spoke to her sister the woman informed her that she was at her lover's home.
"I say to she, `ah what happen to your head'"? Christine said, while adding that she then ended the phone call. She said a few minutes later as she was on her way home, her sister returned a phone call to her and urged that they get together for Easter Monday, insisting that she would make the necessary preparations which included preparing duck curry.
"I said that I does live till across the river and I wasn't sure I could have gotten a boat but she said to promise her I would come and I did," Christine said as she wept.
Meanwhile, at 7pm on Sunday when Pamela arrived at home, this newspaper understands that she ate dinner and sat down to look at a movie with her family and there was not a single word said between the woman and her husband.
The family subsequently went to bed and the children were awakened by an argument between the couple in the wee hours of the morning. It was reported that Peres began physically and verbally abusing his wife. "He was cuffing she in her back, pulling her hair and choking her before loading the gun up," according to sources.
From inside the bedroom, a loud gunshot was heard, a few seconds of silence followed and another gunshot was heard. These two gunshots are believed to be the ones that took Pamela's life. It was stated that she was shot once to her head and once to her stomach.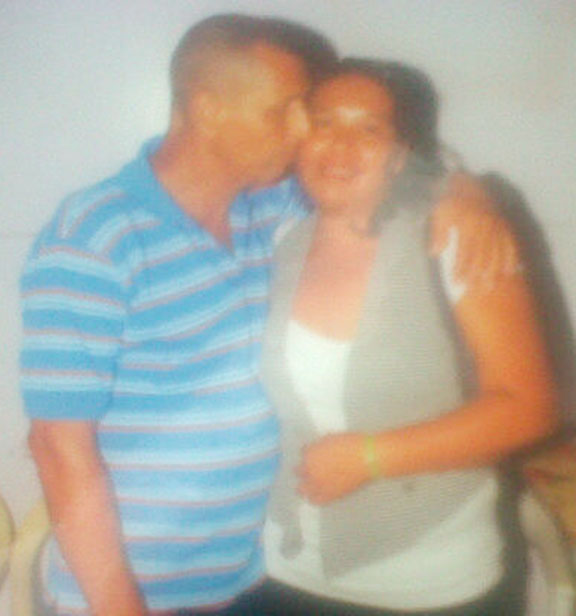 After the gunshots, Peres was heard breathing loudly and moving around the house before firing a third shot which took his life.
Family members then ventured outside their bedrooms and were greeted with the horrific scene.
The dead woman's sister told Stabroek News that Pamela was also four months pregnant at the time she was killed. Christine said that after Peres became ill and began travelling to Venezuela to seek treatment for his ailment, she found out about her sister's extramarital affair around a year ago. She said "when she tell me about this new man friend she got, ah tell her, ah seh, `man, gal Victor sick, why you nah behave yourself?'"
She added that after Peres returned from Venezuela approximately three weeks ago after being out of the country since last December, Pamela complained to him of feeling unwell. Christine added that last Thursday Peres took Pamela to the doctor where they found out she was pregnant.
She added that Peres was adamant about Pamela having an abortion since she told him he was not the father of the child. However, Pamela, according to her sister refused to have an abortion and opted to keep the child which angered Peres.
Christine said that her sister had tried to break-free of her extramarital relationship. She said that Pamela would sometimes ignore her lover's phone calls but the man would continuously call her and if his efforts to get through to her were unsuccessful, the man would then turn up at her sister's home and somehow manage to coax her into rekindling the relationship.
Christine also spoke of one instance where her sister had moved out of the home she shared with Peres to be with her lover sometime last year but returned home two weeks later after deciding that she wanted to be with her children and take care of them.
Peres was scheduled to travel back to Venezuela next month to seek further treatment for his ailment.
Residents of Port Kaituma described Peres as an easy-going man and according to neighbours he would seldom have arguments with his wife. The events leading up to their tragic end yesterday morning are the only instances of physical abuse known.
They said he would not even consume alcohol but on Saturday night concerns grew after he went to a local bar and drank copiously. It was further stated that when he became intoxicated his conversations were about suicide as he spoke about his domestic issues.
A resident told this newspaper that she was inside her home when she was awakened by the screams of Peres' children and the heated argument coming from the home. She added that she was scared to venture over to the house to inquire.
"I woke up my son and told him something bad was happening in that house," the woman said. She said she heard three gunshots and then silence. She said after the neighbours called the police and they arrived, she accompanied the officers and saw the gruesome scene.
She said she saw Martin leave for work on Saturday morning and after she did not see the woman return she inquired from Peres who told her that his wife was ill.
This tragedy is the second domestic violence one in a little over a month to hit the Region One community of Port Kaituma. Linus La Cruz lit his house on fire last month taking the lives of his wife and his four children. He died subsequently at the Georgetown Public Hospital from the injuries he sustained as a result of the fire.
Peres lived just about three-quarters of a mile away from the La Cruzes but sources say the two men were barely acquainted with each other.
Christine told Stabroek News that she will be taking care of the children until tomorrow when Peres' family will arrive in Port Kaituma and more concrete arrangements will be made for their custody.
Around the Web