President Donald Ramotar on Saturday commissioned a new Guyana Water Incorporated (GWI) well at Lethem.
The Government Infor-mation Agency (GINA) said yesterday that the president was accompanied by Housing and Water Minister Irfaan Ali, Amer-indian Affairs Minister, Pauline Sukhai, Minister of Culture, Youth and Sport, Dr. Frank Anthony and GWI's Chief Executive Officer, Shaik Baksh.
Ramotar said plans are on stream for another well which will serve the new housing area for domestic use.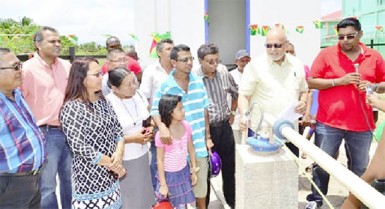 "We are already seeing new developments in this region -large scale farming, in Lethem we have been investing a lot in the water sector, in 2009 we invested $17 million; 2010, $58 million; 2011, $47 million; 2012, $25 million, and last year $28 million", he told the gathering, according to GINA.
Over the past year new wells have also been drilled in Baitoon and Rupertee, the President said.
Ramotar said the administration has been able to achieve water coverage of 98 percent generally and in the interior, this has moved from 25 percent to 71 percent coverage.
"We hope to move into other regions to ensure they have reliable and potable water. Of course communities including, in the Rupununi have shown that it has industrious people and capable people, and over the years, the government has managed in a big way to create the human capital for more rapid development", he posited.
The President also took the opportunity to condemn the opposition over the 2014 budget cuts.
"It is clear that we can't take these people at their word. In Parliament the opposition was talking about development west of the Essequibo, but every single project west of the Essequibo that is in this budget in the same budget period they have cut, and the AFC who joined with them we clearly see that their interest is not the people."
The President added that, "my view is that they want things to get bad in the country with the people, and hope the people will blame the government for some of the problems, but I have total confidence in the collective intelligence of the Guyanese people. I'm sure that people will see through this and reject them for what they are."
Meanwhile Housing and Water Minister Ali said "When the President assumed office, he made a number of commitments in the manifesto he was elected on, also in his successive policy statements in relation to water, and particularly in relation to the development of Lethem."
Ali said that in relation to water, the commitment was to have 100 percent coverage in terms of access all across Guyana.
"Here in this region we are pleased with GWI that we have been able to work on the president's commitment in having almost all of the communities powered by solar driven wells. More than 60 percent of the entire hinterland is covered with at least one solar driven facility", Ali said, according to GINA.
Around the Web