Members of the Guyana Defence Force (GDF) Coast Guard are currently benefiting from a four-day maritime training aboard Brazilian patrol vessel Bocaina, which ends on Thursday.
Two Brazilian patrol vessels, the Bocaina and the Grauna docked at the GDF Coast Guard Headquarters in Ruimveldt on Monday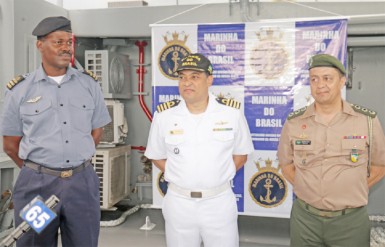 when the maritime training exercise regimen began.
At a press conference held on the deck of the Bocaina, GDF Coast Guard Commander Gary Beaton, Task Group Commander Brazilian Captain Jackson Sales and Brazilian Military Attaché Colonel Ronaldo Pacheco, briefed the media on the training which includes onboard drills at sea, man overboard rescues, damage control, firefighting and fuel replenishment among others.
The Bocaina is sea vessel with a maximum speed of 25 knots that is used for towing, patrol, replenishment at sea, search and rescue
missions and maritime interdiction operations. It is said to be a sister ship to the Coast Guard's flagship vessel, the GDFS Essequibo. The Grauna is a patrol boat that has accompanied the Bocaina. The public will be allowed to visit the vessels today from 14:00 hrs to 17:00 hrs.
This exercise occurs as part of the ongoing Caribbean Exercise, with the Brazilian navy seeking to strengthen relationships with neighbouring countries through sharing of knowledge and expertise via maritime training exercises which fall under the cooperation agreement with the Brazilian navy and Guyana.
Commander Beaton stated that this exercise has been ongoing for over a decade and that yearly visits are conducted by the Brazilian fleet to renew the commitment to fostering healthy working relationships with neighbouring countries. He also explained that Guyana has a well-trained Coast Guard, but still benefits greatly from programmes offered by its military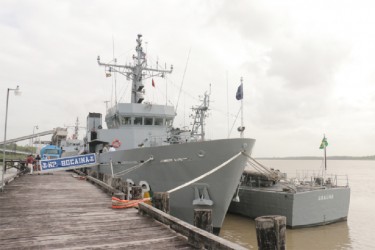 partners. He further mentioned that just last year eight Coast Guard members benefited from training in Brazil at the Merchants Maritime Academy.
Upon conclusion of the exercise the Brazilian Navy will pronounce on the conditions of Guyana's navy and assess its skill level. The Brazilians will then depart to Paramaribo, then to French Guiana and later to Cayenne as they continue their regional training initiative.
In February last year the GDF had signed an agreement with the Brazilian Navy for a range of assistance and in particular for the flagship GDFS Essequibo.
Around the Web