A Kitty man was yesterday refused bail after being charged with the attempted murder of two persons.
Paul Thompson, 29, of 28 Railway Embankment, Kitty, was remanded to prison yesterday after appearing in court facing several charges, including two counts of intent to commit murder.
Prosecutor Michael Grant told the court of Chief Magistrate Priya Sewnarine-Beharry that Thompson,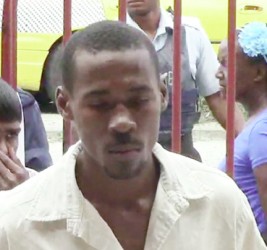 on April 17, discharged two bullets with the intent to murder Deon Gibson and Alarick Edwards.
According to Grant these shots were fired from a Smith and Wesson pistol that Thompson had in his possession without a firearm licence. He added that, with the gun in his possession, Thompson also attempted to commit a felony by robbing Rafeek Singh. Thompson was not required to plead to the two counts of intent to commit murder or the charge of attempted robbery. He was, however, required to plead to the charges of possession of a firearm and ammunition without licences, to which he pleaded not guilty.
Although Thompson was said to have no previous encounters with the law, Grant objected to bail for the man based on the nature and gravity of the charges. Thompson was subsequently remanded to prison until May 9.
Around the Web