– former education chief urges teachers
The Guyana Teachers' Union (GTU) 4th Biennial Delegates Conference opened yesterday and saw a call by former chief education officer Ed Caesar for educators to carefully prepare for inclusivity in classrooms.
"Too many young people who are disabled—or, as we say, challenged—are escaping through the cracks because parents feel embarrassed," Caesar told delegates last evening. "There must be a paradigm shift. We have to ask ourselves: what can we do to help our youngsters?" he added.
The three-day conference is being held at the GTU Hall at Woolford Avenue, under the theme, 'Enhancing the Professional Attributes Amongst Teachers Whilst Promoting Inclusive Education'.
The former CEO, who now lectures at the University of Guyana, recounted the story of a young "challenged" boy, who made tremendous strides with the aid of dedicated nursery teachers as he struggled to fit in with his peers during his early years in an inclusive nursery school.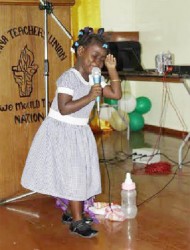 However, he said that the child was shunned during the primary years when teachers at the school made it clear from early that they did not want the child in their institution because they saw him as a problem. The result, he said, was that the child was taken out of the inclusive environment and now attends the David Rose School for the Handicapped.
Caesar stressed that for inclusivity to work for Guyana's education system, the populace first has to be educated about the varying needs of "challenged" children, given social and cultural factors. He noted that even some parents are embarrassed by their special needs children.
"How many parents would accept their children in a classroom with someone that we call a disability? We speak about it. We mouth it. But we don't understand the words we say. Should we, therefore, not have everyone participate actively in our schools?" Caesar asserted.
"Parents have to be reeducated for inclusive teaching… We have got to face this thing pointedly. We must cause parents to understand that these are our children; these children have to play a role in society. Therefore, they must willingly provide information so that the educators, the professionals and whomever can play a role," he added.
Prime Minister Samuel Hinds, who filled in at the conference opening for President Donald Ramotar who was otherwise engaged, noted the heavy responsibility teachers have in moulding children into productive citizens.
These words were acknowledged by Caesar, who urged the Prime Minister to ensure that his government equips teachers with necessary teaching tools.
"I heard the Honourable Prime Minister say that if things don't go right, the teachers are blamed. Therefore, the Honourable Prime Minister should make sure that things are right with teachers," Caesar exclaimed, receiving a standing ovation.
He said that as teachers will now explore varying methods to meet inclusive teaching objectives, they have to be equipped by authorities to do the same. "Teachers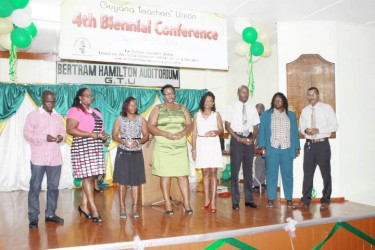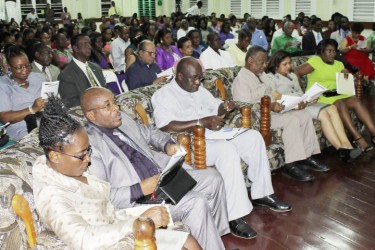 will now have to be trained to plan for different learning styles and preferences. All children have individual learning styles that favour different types of sensory input… Teachers will have to be grounded in the integration of technology—assistive technology, such as computers will allow a child to circumvent his weaknesses," he stated.
Embattled President of the GTU Colin Bynoe, who was recently suspended, delivered the President's Address to the conference and urged members to keep fighting for benefits of teachers countrywide.
There were also presentations from students and teachers. Teachers from the various districts countrywide were also bestowed with tokens of appreciation for their hard work over the last two years.
Around the Web