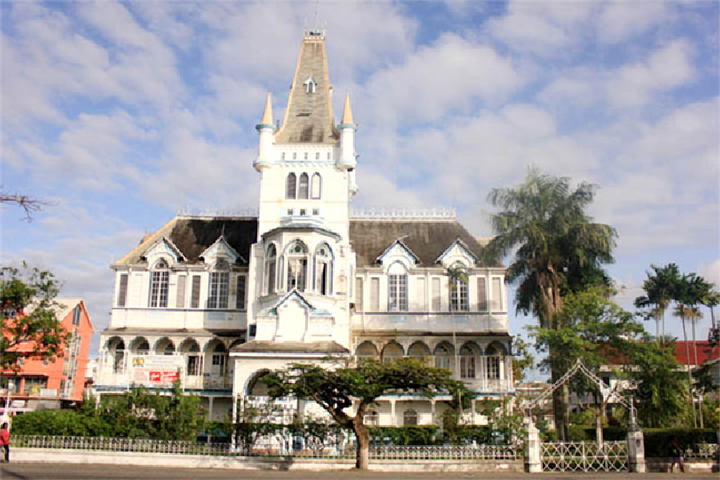 Government has approved over $200 million for the rehabilitation of City Hall, Cabinet Secretary Dr. Roger Luncheon announced yesterday.
Georgetown Mayor Hamilton Green welcomed the announcement but hoped that the central government would seek to engage those with the technical know-how to undertake the renovation.
The $200M could be a major boost for the crumbling 1889 masterpiece designed by Father Ignatius Scoles.
At a post-Cabinet briefing yesterday, Luncheon announced that given the current state of the building and that it can "collapse at any time," the Donald Ramotar administration is eying a comprehensive renovation and has strongly resolved to fast-track interventions into rehabilitating the historic building.
However, Luncheon did not state when the renovations will begin but he did add that interest in the building surfaced recently. The city council and many members of civil society had been appealing for years for the government to do something about City Hall.
In an invited comment yesterday, Green said that the idea of the restoration is a "welcome one." "The restoration requires a certain skill, it is not a cut and paste or knock in nail operation. I hope they (government) utilise this skill before they start to just replace walls," he said.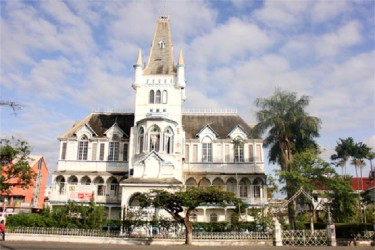 Last April, Ihosvany De Oca Morales and Nigel Renwick, architects from TVA Consultants, a Grenadian company, visited Guyana to advise on the restoration of City Hall and one of them was quoted as saying that it was in "cardiac arrest."
Renwick described City Hall as suffering from a cardiac arrest based on their assessment and added that some issues need to be addressed immediately. Morales had noted that the restoration of City Hall is a peculiar project but added that the building was an important icon.
They had found that the "greater part" of the deterioration of City Hall was a result of water ingress. They also stated that priority should be given to   finding a solution to the situation, which was seen as the key factor triggering many other problems.
Three years ago, government had given the council $20 million to assist with the rehabilitation of the building but only $5 million had been spent to repair windows.
Green told this newspaper yesterday that the remaining $15 million was returned to the government. "Because the City Engineer couldn't have his way, the project was stopped and the money was returned. They (the City Engineer and Town Clerk) put in some windows that were not in keeping with the kind of building we wanted, they were commercial windows," he said.
Around the Web