Jamaicans Tamara Douglas and Benjamin Carrington, who were apprehended at the Cheddi Jagan Inter-national Airport, Timehri with almost 28 grammes of compressed marijuana in their luggage, were yesterday charged with possession of narcotics for drug trafficking.
Douglas, a 31-year-old hairdresser from Portland, Jamaica and Carrington, a 27-year-old vendor from Kingston, Jamaica entered Guyana on April 21st via a Fly Jamaica flight OJ153 at approximately 7am. They were subsequently detained after the drugs were found.
Both Douglas and Carrington pleaded not guilty to the joint possession of narcotics for trafficking charge when they were brought before   Chief Magistrate Priya Sewnarine-Beharry in the city yesterday. They were remanded to prison after the bail application made by their attorney, Madan Kissoon, was rejected.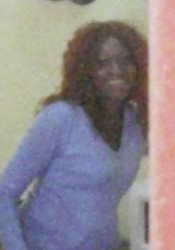 Police Prosecutor Michael Grant told the court that the cannabis was discovered when personnel running the luggage scanner noticed a block-like object at the bottom of both suitcases. The owners of the luggage were asked to identify themselves, at which point the duo came forward. A search of the luggage was then carried out in front of the two passengers and the illegal substance was discovered in both suitcases. The cannabis was concealed in transparent plastic bags at the bottom of the luggage, Grant said.
Carrington's suitcase, he noted, contained 15.554 kg of cannabis while Douglas' suitcase contained 12.272 kg.
Grant objected to bail for a number of reasons, including the fact that the duo admitted to packing their suitcases themselves. This statement from Grant rendered Kissoon's bail application useless as he had told the court that the passengers should be granted bail because the items were found in their luggage and not on their person.
Grant also objected to bail on the grounds that no special reason was given for their release as well as the gravity and prevalence of the crime.
The duo was remanded to prison until May 28th.
Around the Web