A labourer is now dead after being crushed by a pile of glass panes that came crashing down on him inside a container that he was offloading at the construction site for the Giftland OfficeMax Mall at Liliendaal, East Coast Demerara.
Jeremy Ames, 28, of Lot 74 Prince William Street, Plaisance, succumbed to his injuries at the Woodlands Hospital, where he was taken after the accident, which occurred yesterday morning. Relatives learned at the hospital that Ames suffered the brunt of injuries to his neck and abdomen.
Chief Executive Officer of Giftland OfficeMax Ian Ramdeo told Stabroek News the accident was being investigated by police and the Ministry of Labour and the company was not at liberty to comment on it because it was awaiting the reports from the relevant authorities.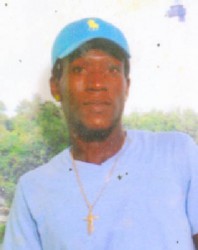 When Stabroek News visited the site, it was discovered that all employees were sent home after the accident.
However, this newspaper was informed that around 10:30 am, Ames was unloading glass panes from a container at the site with three other men when a pile of the panes slipped and started to fall. After the men realised that they couldn't save the panes and that they would be pinned under the weight of the falling materials if they did not run, they quickly exited the container.
Ames was the last person in the container before the glass panes came crashing down.
Another labourer, who was present at the construction site, said they tried to hold up the panes but they were falling and they had to run. "Everyone get out safe but he was the last one and it fell on him. Three weeks boy and he dead," the man said.
Ames' cousin, Denzil Washington, who also works at the site, said he had left the site to buy food and found people gathered around the container when he returned.
He said he also heard a "crushing" sound, and other labourers yelling "that a man get trapped under the glass." He said when they asked who it was, he was told that it was "Tall Man" and he said, "I only know one Tall Man."
Washington said they took over 20 minutes trying to pull Ames from under the glass panes, which he estimated were over 500 and measuring 10×12 feet.
The panes would have been installed in the washrooms and walkways of the mall. "When they pull him out he make a big gasp, and then they rush him to the hospital," he said.
He said Ames had told him "he felt like going home because the work stressing him out". His aunt, Shaun Beveney said she received a call from her nephew around 11 am informing that Ames had been involved in an accident and she should go to the hospital. "When I arrived at the hospital I see he lie down on a stretcher and I thought he was sleeping," a distraught Beveney said.
"But is Denzil come over and tell me what happen when I ask what happen to him…I didn't know he die I just thought he was unconscious. It came as a shock because I never expected something like that to happen to him and my nephew call me and said he was safe," she said.
Ames was the father of a six year-old girl.
Around the Web