The Kaburi Village Council on Wednesday signed a Grant Agreement for $3.4M with the UN office here for the implementation of a project that would foster sustainable management of the Kaburi Village forest.
A release from the UN yesterday said that the United Nations Development Project (UNDP)/Global Environmental Fund (GEF) Small Grants Programme project involves training members from the village who do timber harvesting in forest management. These persons will also be trained in surveying and mapping, and directional tree felling and log conversion at stump. The release said that a five-year Harvesting Plan would be developed and adopted by the village.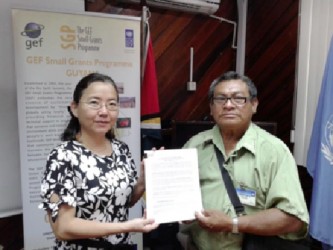 Kaburi, an Amerindian village, is found along the Bartica-Potaro Road in Region Seven and covers an area of 41.57 square miles. The release said that the population of the village is 275 with 55 families/households of primarily Akawaio and Patamona descendants.
It said that the village was established in 1935 and recently received its title from the Government of Guyana.
It said that some members of the village are employed in small-scale timber harvesting, and in a bid for the sustainable management of the forest resources and to limit the impact on the environment, the Kaburi Council sought aid from the UNDP/GEF Small Grants Programme to implement a sustainable forest management project. The total cost for the project is $6.8M of which $3.4M is being provided by the UNDP/GEF Programme. The duration of the project will be six months.
The release said that the UNDP/GEF Small Grants Programme provides grants directly to Civil Society Organizations to design and implement projects that will bring environmental and livelihood gains to communities.
The Small Grants Programme is financed by the GEF, implemented by the United Nations Development Programme (UNDP), and executed by the United Nations Office for Project Services (UNOPS).
Around the Web