Police are investigating the murder of Bharrat Ramcharan, 57, who was gunned down during a robbery in front of Patsan Trading yesterday afternoon.
Stabroek News understands that Ramcharan, who worked as a sales representative at Patsan, Sheriff and John Smith Sts was on his way back to his office with millions in cash after spending the morning collecting money from customers.
After he pulled up and parked across the street, two men on a motorcycle accosted Ramcharan and pulled at his bag.
This publication was told that Ramcharan refused to part with the bag and ran toward the gate at which point the gunmen started shooting. They eventually chased Ramcharan into Patsan's compound where he was shot in the back. The two gunmen snatched the bag and rode off.
Stabroek News was told that the attack was sudden but upon exiting his vehicle, PJJ 3113, Ramcharan seemed to realise that he was being followed by the men on the motorcycle and ran toward the compound where he knew surveillance cameras would capture the scene.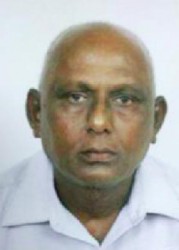 He succumbed to his gunshot wound before he was rushed to Woodlands Hospital at approximately 14:50hrs, less than ten minutes after the shooting occurred. Ramcharan's wife, Yasmattie, told Stabroek News that she was called immediately and told that her husband was at Woodlands.
"I thought you know he was shot, but that he was going to be okay, but he apparently died before he even reach the hospital."
Ramcharan's wife was in disbelief having spoken to her husband earlier in the day.
She recalled that he did sales at the `Big Market' and was used to travelling with large amounts of cash for Patsan. She recalled that he would travel by himself but that this was the first time something like this has happened. The grieving woman was still in shock when she recalled that her husband would not be coming home.
Her son who was also at the hospital surrounded by friends and family told Stabroek News that Patsan would not be speaking on the matter for the time being.
This publication was made to understand that Patsan would be assisting police with surveillance video.
Affording to a police press release, one man is currently in custody assisting with the investigation.
Ramcharan, of Enterprise, East Coast, leaves behind his wife and son along with 13 brothers and sisters to mourn him.
His family recalled that he was a kind man with a very pleasant disposition. He had worked at Patsan since 1995.
Around the Web