-warns of 'avalanche of crimes'
The poor prosecution of criminal cases by police needs to be urgently addressed before there is an "avalanche of crimes," President Donald Ramotar warned yesterday.
While giving the feature address during the opening ceremony of the Police Officers' Annual Conference, Ramotar said unresolved crimes and the low rate of convictions are concerns and can have serious consequences, such as heightened criminal activities.
"I know that not all the blame should be put on you…," he told officers in attendance at the opening of the conference, which he hoped would be used to examine the situation.
"It is very heart rending to see persons who have been shown on national television shooting another person but walking away from the court or another person who was accused of murder having a motorcycle waiting for them as if probably knowing beforehand what will be the outcome," he said.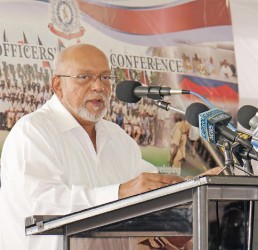 He was making reference to the murder of Shawn Nelson at Orange Walk, Bourda, which was captured on video, and the recent discharge of murder accused Rondy Jagdeo, respectively. In the case of Nelson's murder, absent witnesses had resulted in the discharge of cricketer Carlyle Barton to much public outrage, particularly since the police had access to the video evidence. Jagdeo, meanwhile, was charged with the murder of Kirk Davis but was similarly discharged after witnesses failed to show during the preliminary inquiry into the charge against him.
"These things we have to put a stop to. If we do not we will encourage an avalanche of crimes in our society and all of us in the disciplined forces and in the judiciary must work strenuously to ensure that these things have ended," he said.
Ramotar also said he had spoken to the Minister of Legal Affairs, Anil Nandlall to address the conviction rate with the judicial authorities. He noted that some of the reasons given for the situation are: lack of or poor preparation of cases by prosecutors; failure to master facts and the law in criminal cases; failure to secure attendance of witnesses; failure to apply for witnesses summons; discrepancies in evidence between police statements and oral evidence; and the failure of police witnesses to attend court to give evidence.
While saying these issues must be looked at very carefully, he made it a point of stating that police ranks not attending court to give evidence was unacceptable.
Government, he added, has provided substantially for the training of police prosecutors and this support will continue. "But we would like to see a qualitative improvement in prosecutions. We want to see value for money," he said.
He also said police must be able to use science and technology in the fight against crime. This area, he noted, is one that the government has been putting a lot of emphasis on. "We have been sending more of you on courses overseas and many conferences so that experiences could be shared and best practices could be adopted. We have also built new facilities to do wider training for more of our officers and ranks," he added.
Additionally, the president said the modern forensic lab has been constructed so that science can be used in solving many cases. "I wish to urge you to use these facilities to the maximum so that we can better serve our people," he said. "Far too many criminals go free largely because sometimes confessions are turned down in courts because of claims by some of torture. Now we are giving you additional tools, scientific tools to deal with some of these issues."
Cooperation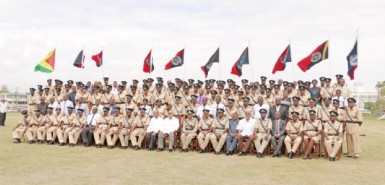 Ramotar spoke of the importance of security in a democratic society, saying it is vital to enable people to build their lives and the country in an atmosphere of peace and freedom.
Over the years, he noted, the nature of crime has changed considerably and in a very "dramatic way," with one of the main drivers now being the drug trade with its international reach.
Money laundering too, he said, has links to the drug trade, gun running and financing of terrorism, trafficking in persons and other crimes. "The criminal enterprise is not just a local issue, it is also international in nature," he said, while observing that local efforts need to be matched with international cooperation to address the situation.
On the local front, he mentioned that the anti-money laundering bill still in the National Assembly is very important, not only because it can result in sanctions and can impact on the country's social and economic development but because "it will be important in closing gaps to prevent criminals from using any weakness in any country's legislation in order to launder money and to get away with some of the things they get away with."
While noting that this is not a complicated issue, he said that all government is striving to do is to work with the international community to ensure that the legislation coincides with the rest of the region and international community. "To try to talk about fighting drug crimes and drug barons and refusing to pass this bill is really a contradiction and empty words in many respects," he said, in an obvious reference to past criticisms by the opposition, which has set preconditions for supporting the passage of the bill.
According to Ramotar, officers of the police force must be prepared to meet the new challenges in the crime fight and he emphasised the need for full cooperation and coordination within the disciplined forces in this regard. "There is no Chinese wall dividing the various disciplined forces in Guyana. Their objectives are all the same: to provide a secure environment in which our people can carry on their activities and therefore we should not see total separation but we should try our best to share resource and to cooperate and to coordinate," he stressed, while adding that regional and international cooperation "is very vital" as well.
The people's trust
Ramotar also acknowledged the crucial part the "trust of the people" plays in enhancing police operations, including intelligence gathering. "There is no substitute for winning the trust of our people," he said, while arguing that police must be active in the communities in order to achieve this goal.
He added that it is in this context as well that the Community Policing Group (CPG) has become important to security, and which the government has recognised as evidenced by resources for these groups in this year's national budget.
Ramotar also said the police force must take a hand in strengthening its crime fighting capacity.
He said too that the officer corps of the force must also take strong measures in fighting corruption in and out of the force.
"This is extremely important, not only for the health of the force but for the health of the society as a whole. Every single officer portrays the image of the society…," he stressed, while adding that the quality of the force is bound to rise if the senior ranks lead by example.
He said that he is also aware that the force is in the midst of reforming itself. "I know that some people resist changes because they have probably become contented in doing the things in the same old way.
Such attitudes can lead to stagnation and preventing you from improving yourself," he noted, while urging all ranks including those in leadership positions to embrace the police reform, to support it and to accelerate the process.
Around the Web