Managing Director for Demerara Waves Media Inc. Denis Chabrol recently participated in a US-Embassy sponsored International Visitor Leadership Program (IVLP) exchange on promoting civil society through new media.
Chabrol recently met with US Ambassador Brent Hardt and highlighted key components of the program, the Embassy said in a statement yesterday.
The IVLP exchange, titled "Media Literacy: Promoting Civil Society through New Media," ran from March 24 to April 11, 2014.
According to the Embassy, during his meeting with the ambassador Chabrol underscored the ways government and civil society organisations utilise social media in the delivery of information and to promote interaction with the various publics and interests they serve and promote. It said Chabrol planned to share his IVLP experience with his local counterparts, specifically highlighting the role of civil society in political decision-making, addressing challenges of content credibility in an era of new media, and utilising new media technologies and strategies for reaching various audiences.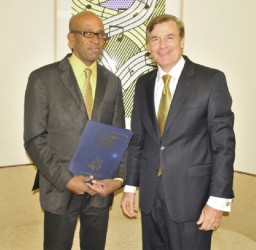 It added that Ambassador Hardt reaffirmed the US government's commitment to strengthening the development of the media and promoting accurate, fair, and responsible reporting.
The Embassy said Chabrol was one of 23 participants from across the globe who had the opportunity to examine a variety of new media and social networking tools.
"During the exchange program, participants also explored citizens' rights and responsibilities in civil society in the United States, and how new media can be used to promote transparency and accountability in the public and private sectors," it said, while adding that they also gained insights into how citizens can be educated to become more discerning consumers of online content.
The statement noted that the exchange program was specifically designed for public and private-sector representatives responsible for developing social media platforms, journalists, media professionals, government officials, and educators who teach and research social media. It said Chabrol and his global counterparts visited the Department of State, USAID, non-governmental organisations, and media houses, such as Al Jazeera and CNN.
According to the statement, the IVLP is the flagship professional exchange program of the Department of State, which annually brings approximately 5,000 foreign nationals from all over the world to the United States to meet and confer with their professional counterparts and to experience America firsthand. The visitors are current or potential leaders in government, politics, the media, education, the arts, business and other fields, it added.
Around the Web