Region Eight AFC Councillor Niem Gafoor has bemoaned the condition of several schools in the area even as government has allocated over $64 million in this year's budget towards education delivery in the region.
Gafoor in a recent interview told Stabroek News that several schools in the region are faced with problems, including the Chenapou Primary and Kindergarten and the Mahdia Secondary but they are not getting any help.
He said the Chenapou Primary and Kindergarten School has not had access to potable water for its kitchen for two and a half years.
This is because the trestle which supports the overhead tank is rotten. "It is not right for them to be fetching the water, sometimes even the parents and teachers have to fetch water," he said.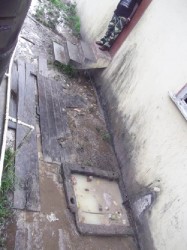 According to the councillor, the access road leading to the dormitories at the Mahdia Secondary School has been in a deplorable state for the past three years. "That road is the only access road to the dorms and is 99% of Amerindians staying there from Sub Regions 1 and 2. This government treating them as though they are insignificant, it doesn't make any sense and whenever we go to the Regional Education Officer [that person] keep saying how we get propaganda story."
He said too that there has been garbage behind the school "since 2009" at the back of the school "and the REO just ignoring the conditions of the dorm. The tanks empty and the drainage at the back of the dorms is poor."
Contacted, Region 8 Regional Executive Officer Ronald Harsawack said he did not think the information is "quite accurate" since the administration has been paying for the collection of garbage at the three schools in Mahdia.
Meanwhile, Region 8 Chairman Mark Crawford has also expressed similar sentiments. "Government should see the necessity in setting up a well at Chenapou. I wrote the Minister of Housing last December asking him to set up a well at Chenapou but up to now I have not gotten any response," he stated.
Crawford added that "it appears as though the government abandon Region 8 after losing the region at the last general elections."
According to Crawford, one of the major problems affecting students of the Mahdia Secondary School was lack of electricity.
"The well at the school needs electricity and because of the present electricity problems affecting the entire Mahdia area during school hours they cannot get to pump the water," he said.
Around the Web