–statement admitted into evidence
Jevon Wharton, the number one accused in the Sade Stoby murder, gave police a caution statement in which he admitted to having sex with nine-year-old child on the day she went missing.
Wharton, 23, and Charles Cush, 21, are on trial before Justice Navindra Singh and a mixed jury for Sade's murder in November 2007 at Barnwell, Mocha, East Bank Demerara. They were 16 and 14 years old, respectively, at the time.
Wharton's statement was admitted into evidence and marked as an exhibit in the trial following a voir dire to determine its admissibility.
The statement had been signed in the presence of Assistant Superintendent of Police Elston Baird and a businessman named Peter Leon Willems at the Brickdam Police Station.
Wharton, said in the statement, that on November 2, 2007 he had met Sade on the bridge and they had walked "up to how far no more shops were and we went in the bush and Sade, the little girl, tek off she clothes."
He said they started "doing … sex" and when they finished,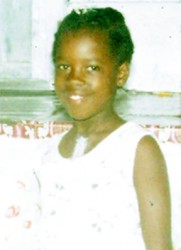 while she was putting on her clothes she slipped and hit her head. "I pick up my bicycle and ride away. On Saturday I been back there to see if anything happen to she and I see her dead," he said.
He added that on Sunday the police arrested him and took him to the Providence Police Station. "That is all I have to say," he said in the statement.
Rosanne Cush, the mother of the number two accused had testified on Thursday that when she had seen her son on the day Sade was last seen alive, his skin was wet.
Senior State Counsel Gildharie-Mursalin in her opening address had told the court: "all we have to prove is that they [the accused] had intentions to rape her. We don't have to prove intention to kill. This was a felony murder. We only have to prove intention to rape."
Gildharie-Mursalin said a post-mortem examination done on November 5 by Government Pathologist Dr Nehaul Singh gave the cause of death as asphyxiation due to submersion, compounded by blunt trauma to head.
She told the court that the deceased's body was bloated and had haemorrhaging to the head and chest. She said there was thick mud in her trachea and her stomach. "Her intestines were protruding through her anus; there was blunt trauma to the head, at least four and there was bruising to her vagina indicating sexual activity just before her death," she said.
Cush is being represented by attorney George Thomas while Raymond Alli is representing Wharton.
The trial continues on Monday with Baird continuing to give evidence.
Around the Web