Maira, a Makushi girl and her twin brother Mairun venture into the deep forest alone, something they know they should not do. Their terrifying encounter with a talking jaguar and what they learn about their community and way of life is the basis for a film project: Maira and the Jaguar People.
Written by film maker, writer, playwright, director and actor Michael Gilkes, the film is to be shot on location in the Makushi Surama community Region 9, North Rupununi.
According to a synopsis, Maira loves birdsong, while Mairun dreams of being a great hunter. After they go off into the forest, the Shaman creates an illusion—the talking jaguar—to teach them a lesson.
They learn to listen to what the Shaman calls 'the advice of the birds' and that the jaguar must be feared but also welcomed and respected since it holds a special, almost sacred place in the interconnected web of life and death in the rainforest.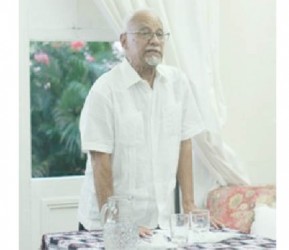 Their meeting with the jaguar is meant to be both frightening and reassuring. Through the magic of the Shaman (and of the camera) the line between life and death, hunter and hunted, man and beast, is blurred: the jaguar is a projection of the Shaman who is a shape-shifter and illusionist.
The Shaman's 'dream story' is also the film's story. It reveals the importance and practical value of mutual respect between people and jaguars, now a protected species in South America, but still endangered.
Part of the plan behind filming in the Rupununi is to ensure that Makushi people benefit, according to a press release. They will be closely involved in the technical and casting areas of the production and the film set, a replica of a Makushi village from the 1950s, will be handed over to the community at the end of the filming.
A trail and bivouac for overnighting will be built at Kayanperu, to be developed as a heritage site and it is envisaged that these structures could be used as living or guest spaces for the community and visitors, or serve as a museum site.
At present, the filmmakers are still trying to raise funds to complete the project on IndieGoGo. Persons wishing to contribute can visit the https://www.indiegogo.com/projects/maira-and-the-jaguar-people—2#home and use one of a number of options to do so. The options offer contributors various gifts based on their donations. Persons who would like to contribute but do not have credit cards can contact Project Manager Gem Madhoo-Nascimento by calling 225-3557 or 226-0240.
Around the Web