The police file on the Colwyn Harding baton rape investigation is now at the office of the Chairman of the Police Complaints Authority (PCA) for a second time.
It was following queries from members of the media on Thursday that the police issued a statement on the whereabouts of the file.
Answering media questions at the conclusion of the opening ceremony of the Police Officers' Annual Conference, acting Police Commissioner Seelall Persaud said the file was sent back by the police to the chambers of the Director of Public Prosecutions (DPP). When told that it was not there he said that the last thing that he knew was that it was there.
Later in the day police said in a press release that "the file in the Colwyn Harding matter which was resubmitted by the police to the Director of Public Prosecutions on April 11, 2014, has now been forwarded to the Chairman of the Police Complaints Authority for his further perusal and comments."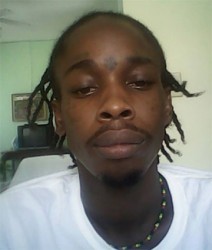 Contacted on Friday the PCA Chairman Cecil Kennard said that he received the file from the police on Wednesday but hasn't been able to look at it as yet.
He said that he has to look at statements including the medical reports which were provided by the police.
Harding has accused a police constable of ramming a condom-covered baton up his anus and later physically assaulting him last November. That rank who was at the time stationed at the Timehri Police Station was placed under close arrest before being allowed to resume normal duties at another location. Several ranks from the station were also transferred as a result of the incident.
Harding's story was never made public until January.
According to his mother, she had informed senior officials that her son had been sexually assaulted and the complaint was handled at the Brickdam Police Station, but nothing was done. Following the publication of Harding's plight – at the time he was hospitalized in the Georgetown Hospital where a hernia operation had been performed on him – the matter was immediately handed over to the Force's Office of Professional Responsibi-lity (OPR).
After making recommendations, the file was sent to Kennard and later the DPP. However the DPP sent it back to the police stating that there was need for additional investigations.
Observers have ex-pressed concern at the length of time that the matter has been under investigation.
The hospital had said that it was never informed that Harding had been allegedly raped and during their examinations of him, they did not see any signs of it.
Harding however later underwent two private examinations, one at a private hospital here and the other in Jamaica and the conclusion from both was that a foreign object had been inserted into his anus.
At the moment, supporters of Harding are working on raising funds for him to return to Jamaica to have a final surgery done.
Around the Web