– still seeking  justice
A family from Number 71 village, Corentyne is back in the home from which they were evicted last week, but their belongings remain on the road.
Daveanand Basdeo, told this newspaper yesterday that he and his family took the advice of an attorney and moved back into the house which they had occupied for the past 14 years. But he said they were unable to take their belongings inside the house since they were badly damaged.
He added that though they are back inside the house, their future is still unstable since it is just a temporary fix to their situation. He also complained of being tormented by the neighbour who is believed to have purchased the home. "Dem does throw rice and all sort of stuff pun the house," Basdeo said.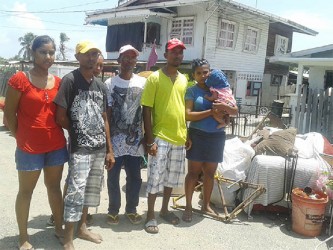 Basdeo had told this newspaper that two policemen from the Springlands Police Station accompanied a popular Corriverton businessman into his home and insisted that his family leave at once. It was during the ordeal that the family learnt that the house had been sold and they were ordered to vacate the premises.
However, the Basdeos said neither the lawmen nor the businessman produced any legal document establishing the claim nor had they been given any notice to move prior to the incident. They criticized the police for their unprofessional and inhumane conduct.
"They didn't show us any [legal] paper they walked [in] and just told us to get out," Ginwattie Persaud, Basdeo's daughter-in-law, had said.
According to the Basdeos, after they exited the home, the lawmen, businessman and relatives of a neighbour fetched out their belongings and placed them on the street.
The Basdeos had nowhere to store the items and they remained on the road exposed to the elements.
Daveanand Basdeo said that in 2000 he and in his family began living in the home after he started a relationship with Meenwattie Devi, who is now deceased. He said when they moved into the house, it was semi-finished. However, he worked as a fisherman and renovated the house and as his sons grew they pitched-in to make the home more comfortable.
Basdeo, a Community Policing Group member, said that he wed Devi in 2005 and they had agreed that should anything happen to either of them the house would remain for the children. After his wife died in 2011, Basdeo and his children remained in the house, which was co-owned by his wife's sister. He believes that the woman sold the house without his knowledge or permission.
The family is requesting assistance from the public while they ponder their next move. They can be reached on telephone numbers 617-9623 or 338-4568.
Around the Web