Natalie Caseley, the mother of the four-year-old who died at the Georgetown Public Hospital (GPH) while undergoing treatment after biting his tongue, has been promised a meeting with the Health Minister.
Caseley told Stabroek News that a meeting next week with Minister Bheri Ramsaran was promised to her after numerous attempts to contact Chief Medical Officer (CMO) Dr Shamdeo Persaud about the investigation of her son's death failed.
Last week, Persaud had spoken with Kaieteur News and had disclosed that recommendations had been made for the disciplining of four health professionals who dealt with the injured Mars prior to his death. However, this information was not relayed to Caseley by the CMO, despite her efforts to have an audience with him.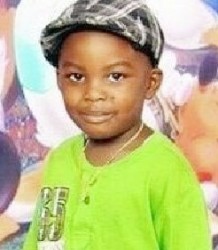 Caseley disclosed that she had contacted Persaud's office late last week following the publication of an article by this newspaper and had been informed that the CMO was very upset about the published story.
According to the mother, she is through with attempts to speak with Persaud. However, she is pleased with the response she received from the Ministry of Health (MOH) and praised the minister's secretary for her swift work.
"I'm pleased that when I would've called that she was able to actually help me. However, a promise is a promise. If she says I will speak with him, I am expecting to speak with him," Caseley emphasised.
She revealed that she hoped to discuss the findings of the investigations into her son's death, particularly the recommendations made. The recommendations were a sign that the hospital was finally accepting its negligence, she opined.
"I want to know not only when but also what these disciplinary actions will be," she said. She continued, "Action needs to be taken for me and the institution and for everyone going to the hospital. They need to make these people examples… they need to know that if they mess up, there will be consequences; the ministry will know that they need to stamp down on the people who're taking care of other people's lives."
According to the woman, if the meeting with the minister does not materialise, she does not intend to stop her fight for justice.
"I am not stopping until I get my justice," she said. "People who have no faith in the institution have been telling me to just let it go, that nothing will be coming out of it. But I am not stopping until I get complete closure. Jaden Mars will not be forgotten, everyone must know that justice can be served."
Around the Web