– work ongoing in other areas
After Guyana Water Incor-porated (GWI) on April 13 issued full page advertisements in the newspapers to update citizens affected by the laying of sewerage pipes on the progress in resurfacing the roadways, some residents are calling the work substandard.
In the ads GWI claimed that the work was being done to a satisfactory level. However, in a letter published in this newspaper last week, Jennifer Bulkan said that work done to restore Smyth Street, where she lives, was shoddy.
"The work done was totally substandard and the mess in front of the house where I live is very difficult to live with," she wrote.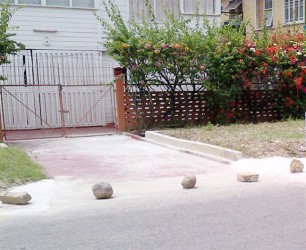 When Stabroek News visited the location the restoration work looked acceptable and GWI advised that "the Smyth Street location referenced in the letter was reinstated to satisfactory standards. In addition, Nabi Construction Inc, the private contractor responsible for the road repair works, has confirmed that pipe-laying was completed in the Smyth Street location within the first week of January 2014 while road reinstatements and restorations to private property were completed at the end of January 2014."
GWI also said that representatives from the contracting firm visited Bulkan's home on numerous occasions with the aim of restoring her property to its previous state and she had indicated to them that the work was adequate.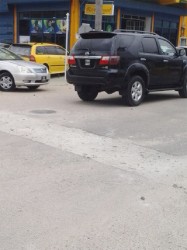 However, in the letter Bulkan criticized the work of the contractors stating that they worked at one location and then moved on to another with no continuity. She complained that with the rainy season in effect the mud from the road that was dug up was not restored to its previous state and as such slush comes onto her bridge and into her yard. "Apart from making a mess, it is dangerous as the mud can cause me or anyone else to fall and sustain an injury," Bulkan said.
The company said that on Thursday last its representatives again visited Bulkan to ascertain the basis of the complaints in the letter but they were unable to establish contact with her. Further, it noted that there was no evidence of the situation she described in her letter.
In addition to the Smyth Street location, in the advertisement GWI said that the junctions at New Market, Regent, Quamina, Waterloo, Wellington, Light, Cummings and Second streets have been reinstated to a satisfactory level.
However, when this newspaper visited these areas it found that the excavated sections on Regent Street and Wellington Street had been filled with sand and small bricks but had not had asphalt applie. Commuters are still waiting for permanent works to be done.
Work was still ongoing on Light Street, starting from Second Street all the way to South Road while work seems to have been completed on New Market Street and Cummings Street and the road restored to a reasonable level.
Around the Web