– via audio/video link from US

A weeping Eric Stoby, the father of Sade Stoby, who was raped and murdered when she was nine years old, testified via audio/ visual link from the Guyana Consulate in New York yesterday when the trial continued.
Stoby attested to finding his daughter's dead body in a drain at Sixth Field, Barnwell, Mocha on the morning of November 4, 2007.
Javon Wharton, 23, and Charles Colwyn Cush, 21 both of Mocha, Arcadia are on trial before Justice Navindra Singh and a mixed Demerara assizes jury. It is alleged that Wharton and Cush, who were 16 and 14 years old at the time, murdered Sade Stoby between November 2 and 4.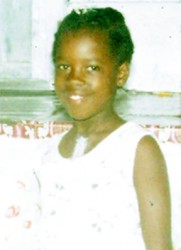 Senior State Counsel Judith Gildharie-Mursalin made an application, which was granted by the trial judge, for Eric Stoby to give evidence via audio visual link, in accordance with Section 73 of the Evidence Act, Chapter 5:03. Eric Stoby migrated to the US four years ago.
Neither of the defence attorneys—Raymond Alli, who is representing Wharton nor George Thomas, who is appearing on behalf of Cush—objected to the application.
Subsequently, the Clerk of Court administered the oath to Eric Stoby, who held the Bible, in the presence of Consul General Brentnol Evans.
In tears, Stoby testified that he had gone to work at Itaballi for approximately two weeks when on November 2, 2007, he received a telephone call from his eldest son which caused him to head home.
He said told the court that he arrived home at about 3 pm on Saturday, November 3, and joined a party of about 14 people in search of Sade, but the searches were futile. "We searched until night fell," Stoby said. "I did not sleep that entire night and I told my wife [Sharon Berry] that I had to find my daughter."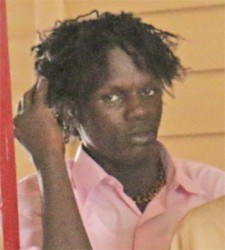 He said that early on Sunday morning, he left his home and went to the bridge at Sixth Field where he began to get a foul odour. He said he heard imaginary calls from his daughter saying "Eric, Eric," and he followed that voice and the smell, across 7 to 9 abandoned cane beds, measuring about 36 feet each. He added that he then he walked about 75 to 80 feet through "raw bushes" until he arrived at the drain where he finally found his daughter.
The man said his daughter's uniform was pulled up to her waist, her school bag was next to her, her shoes and socks nearby and she had on no underwear. He further stated that a half-pair slipper and a jersey were nearby.
Stoby said he saw that his daughter's body was bloated and he began hollering and he was subsequently joined by his son and brother, Police Officer Godfrey Stoby. Afterwards a large crowd gathered. He said he removed his daughter's body from the drain and she was placed in a hearse and taken away.
The following day, November 5, Stoby said, he went to the Georgetown Public Hospital Mortuary where he identified his daughter's body to Dr Nehaul Singh, after which a post-mortem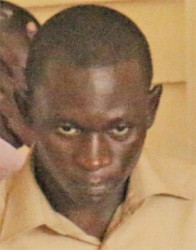 examination (PME) was performed on the body and it was subsequently handed over to him for burial. Sade was later buried at the Mocha Cemetery.
Stoby said he had known both accused all their lives and he had known their parents also, both of them being from the same area where he had lived at Mocha.
Under cross-examination by Alli, Eric Stoby said he had met Wharton in the village sometime the same day his daughter was found and when Wharton saw him, he began riding away on a bicycle on which he was carrying about 10 pounds of ice. Stoby said he ran after him and Wharton said he did not know anything about his daughter.
He denied beating Wharton and examining his penis.
When cross-examined by Thomas, Stoby said he had seen Cush at his home on the Saturday when he came from the interior and was searching for Sade but he denied that he and other male relatives had beat Cush to his penis.
He said he saw Cush in a bus with a female. When asked if he was in the bus that took Cush to the Providence Police Station, Stoby said, "I did not get that chance."
Following Stoby's evidence, the voir dire to determine the admissibility of a written caution statement given by Cush continued in the absence of the jury with ASP Elston Baird completing his evidence.
This smaller trial continues today.
Around the Web