-Inquiry chairman
Several weeks after political activist and historian Dr. Walter Rodney was killed, Sir Richard Cheltenham QC delivered a glowing tribute to him during a memorial service in Barbados.
Sir Richard, who is now the chairman of the Commission of Inquiry (CoI) set up to investigate the circumstances surrounding Dr. Rodney's death, told Stabroek News last evening that no bias should be drawn from this as the two did not share a close relationship.
When told of the article, dated June 30, 1980 and which was published in the Barbados Advocate, he said that it was brought to his attention on Monday. He said that he did not have any immediate recall of it but eventually did.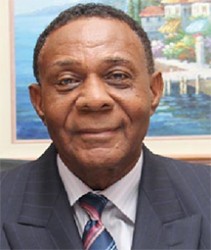 He said that he could have gone "wholly oblivious of that had it not been for someone bringing it to my attention." He said that he hopes that no none will draw any inference of bias.
According to Sir Richard, it is a historical fact that he had spoken at the memorial service. "I don't think that it should be an issue," he said before adding that the article states nothing about any close relationship between himself and Dr. Rodney.
He said that they did "overlap" one year at the Mona Campus, in Jamaica. "We were students in different halls…..we were not close. We were not roommates. That is a fact," he said adding that the tribute that he did was based on published records and the fact that he knew him and his reputation. "I don't know what reasonable inference can be drawn from that…. For me it should not be an issue and no inference of bias should be drawn from it," Sir Richard said again, stressing that his contributions at the memorial service were based on public records.
"It is a naked fact. No inference of bias should be drawn…given the length of time," he added.
Rodney was killed on June 13, 1980 when a walkie talkie given to him by now deceased Guyana Defence Force officer Gregory Smith exploded. At the time, he was seated in a car near the Georgetown Prison.
In the article, headlined "Cheltenham pays tribute," Sir Richard was reported as saying that Dr. Rodney was a Caribbean man and a Third World Man who believed that the Third World and Caribbean countries because of their colonial past had similar problems which called for a related if not similar strategy.
"In Rodney's death, the Caribbean has lost one of the finest minds of his generation. God blessed him with a richness of intellect, a power of conceptualisation, a clarity of thought and an ease of expression which was the privilege of few. In this and other respects, he had abilities beyond the reaches of most men," the article quoted him as saying.
He went on to speak of when he met Dr. Rodney during the 1962-63 academic year at the Mona Campus, adding that "every meeting convinced me that he would distinguish himself."
In his tribute, Sir Richard continued to speak of the academic side of Dr. Rodney's life and touched on the years before he died.
Around the Web