The Guyana Defence Force has signed a new Collective Labour Agreement with the Guyana Labour Union (GLU).
A release from the GDF yesterday said that GDF Colonel Administration and Quartering, Captain John Flores and General Secretary of the GLU, Carvil Duncan were the main signatories. The agreement, which covers all permanent civilians employed by the GDF, was formalised on April 16 last.
Captain Flores said the signing is reflective of the GDF's continued concern for the welfare of the Force's civilian employees.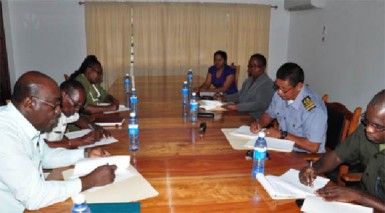 "The GDF has great respect for all of its employees and we value the contributions of our civilian labour force. We will continue to treat with them in the letter and spirit of this agreement and also with regard to our national laws. Our doors are also open for consultations should any issue arise that is not covered in this agreement", he said, according to the press release.
The released said that Duncan lauded the GDF's commitment to protecting the rights of its civilian employees.
"People often wonder how it is that a union is operating in a military organisation when unions are generally associated with go-slows and strikes. With the GDF we operate on principles embracing discussions and consultations to arrive at consensus.
The GDF is worker-friendly and takes care of their people. They also have a high regard for the union. The GLU enjoys a unique relationship with the Guyana Defence Force. The signing of this agreement shows a continuation of that relationship," Duncan said.
The previous agreement was signed in 1977, the release said.
Around the Web