Two municipalities yesterday signed their first ever HIV/AIDS declaration with a vision of Zero New HIV Infections, Zero Discrimination and Zero AIDS-Related Deaths.
In a symbolic ceremony at the Umana Yana, the chairperson of the Interim Management Committee of the Linden Municipality, Orrin Gordon and a representative of Claude Henry, Mayor of New Amsterdam signed the declaration dubbed, `The Urban Health and Justice Initiative (HIV CITIES Project'', which reaffirms their commitment to achieving universal access to HIV prevention, treatment, care and support under a human rights framework.
The ceremony saw speakers from a cross-section of organisations inclusive of the Officer in charge, George Wachira of the United Nations Development Programme (UNDP); UNAIDS Resident Coordinator Roberto Campos; Dr. Shanti Singh of the National AIDS Programme Secretariat and keynote speaker, Justice Roxane George. The ceremony was also attended by human rights groups and members of the Lesbian, Gay, Bisexual and Transgender (LGBT) Community from both Linden, Berbice and Georgetown.
The initiative started with a needs-based assessment of the town areas of Linden and New Amsterdam which saw the setting up of two task forces to address the key issues raised not limited to HIV/AIDS. This was according to the project coordinator Paulette Henry, who said that the municipalities have developed action plans which are already being implemented. Achievements thus far include human rights training of over 100 persons from the Police Force and municipalities, a 24-hour Voluntary Counselling and Testing Site at the two town halls and collaboration with the private sector to fund, equip, and provide technical assistance with the initiative.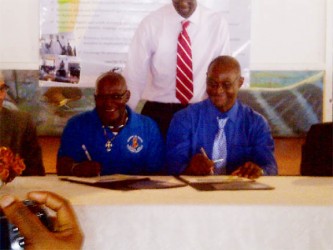 The project is primarily funded by the UNDP and was referred to as a low budget one. This however the speakers each stressed had no bearing on its effectiveness quoting the words, "With communication, creativity and a very small amount of money, we can have a big impact." Future proposals in the initiative include expansion of training to more people, outreaches to the key affected population and monitoring of progress.
In keeping with the overall vision of zero discrimination, the speakers affirmed their commitment to ensuring that everyone regardless of colour, creed or sexual orientation should have access to care, testing and counselling and other support. The key affected population according to the panel were the female community, sex workers, men who have sex with men and transgenders.
Denouncing homophobia, Justice George specifically said that people must change how they engage each other if there is to be a positive impact and move towards equality. Citing the ill treatment of the differently sexually oriented by members of the Police Force, the panel has set up monitoring systems to track complaints by victims of abuse and discrimination and will continue to press for equality in the manner reports made by these individuals are treated.
A representative of the LGBT spoke to this newspaper about his feelings regarding the initiative saying that it provides them with an assurance of justice and that their human rights are being acknowledged. He further explained that this initiative brings to the forefront issues like marginalization, stigma and discrimination, criminalization and social and political exclusion. He believes that Guyana needs a change in attitude and is calling on all of the population to stop stigma and discrimination, renounce homophobia and rid society of this ill to promote equality. "All human beings are equal and born free and that is a fundamental human right", he said.
Around the Web