Human rights activist Karen de Souza yesterday said that she felt the PNC government killed Working People's Alliance (WPA) co-leader Dr. Walter Rodney since then Prime Minister Forbes Burnham had been issuing threats to the party and it was believed that the government had already had a hand in the deaths of two of its members.
Addressing members of the Commission of Inquiry (CoI) into Rodney's death yesterday at the Supreme Court Law Library, de Souza opined that Rodney had "finally been killed by the government."
The CoI has been set up to ascertain, among other things, the circumstances that led to the death of Dr Rodney, a renowned Caribbean intellectual and political activist who died in a car near John and Bent streets after a walkie-talkie handed to him exploded.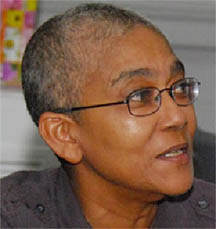 Led by the commission's counsel Latchmie Rahamat, de Souza was asked how she arrived at her conclusion. She said there were a number of reasons, among them being that two party members, Ohene Koama and Edward Dublin, had been killed just before Dr. Rodney. Burnham, she noted, had been making threats against the party and its members.
She also said that WPA was totally opposed to the policies and behaviour of the PNC, which was the government of the day. "It was clear that the WPA was not a friend of the PNC," she said.
de Souza said that she had no information about the circumstances surrounding the killing of the two party members. However, based on information she received they were killed by government insofar that the police were following the instructions of the government. Koama was shot dead in Shirley Field Ridley Square while Dublin was shot dead in Linden. She could not remember the exact date that the duo died but knew that it was either 1978 or 1979.
de Souza also disclosed that it was Dr. Rodney's brother, Donald Rodney who first informed her of his death on June 13, 1980. She said that just before he came banging on the door of her then Lot 45 Croal Street residence, she heard an explosion. This would be around 8 pm. The bleeding and distressed man informed her that there had been a "terrible accident or something terrible has happened." She recalled him asking if she was alone and said when they went upstairs they met Andaiye. She said he asked again if there was anyone else in the building before saying that they should go and see what happened to Walter.
Later, she said, when she arrived at John Street close to Hadfield Street, which is three minutes from her home, she saw a group of people made up of mostly members of the "death squad." Police, according to her, made up the majority of the crowd. She said that there was a car with the top blown out with a body inside that looked as though it had no bones and with the head bent forward.
She said that she tried to get closer but left shortly after a member of the "death squad" called her by name.
She later said that she only heard the name Gregory Smith after Rodney's death. She said that she did not recognise a picture of him which was published in the Catholic Standard newspaper.
 Disruptions
de Souza told the commission said that she first met Walter Rodney in 1978. She said that while she did not attend any of the party meetings that year, she did so the following year. She said that during this period she attended lots of meetings where there would be disruptions.
de Souza recalled a meeting in Campbellville in August of 1979 which never started as police ranks dressed in blue and black uniforms without numbers broke it up. She said that some of the meetings were broken up by a section of the police force called the "death squad" and by members of the House of Israel. She said that the police ranks wore plain clothes and were "particularly vicious," using hockey sticks and batons on unarmed persons. "They seemed to have no problem using these on persons who were unarmed," she said.
Asked if she could identify the members of the "death squad," de Souza said that the only name she could remember was "Fanfair."
The members of this group would also disrupt WPA meetings and she said that one could have differentiated them from the police by the red, green and black clothing that they wore.
She described the House of Israel as a religious group which had a radio programme and whose members "sold plantain chips and broke up meetings." She said that Rabbi Edward Washington, the leader of the grouping and another person whose name she could not remember, were the only persons she could identify as being a part of it.
de Souza said that she assumed that the House of Israel was affiliated with the PNC.
Still being led in her testimony by Rahamat, de Souza said that she was arrested on "too many occasions to count," with the first time being in July of 1979, following a fire which destroyed the Ministry of National Development. Among the names of the seven or eight persons who were arrested that day, according to de Souza, were Dr. Rupert Roopnaraine, Rodney and Omawale. She said that she was held for three to four nights at the East La Penitence lock-ups.
She recalled that on the afternoon of her arrest, she was first questioned by the then crime chief Skip Roberts and then a couple of policemen.
According to her, Roopnaraine, Rodney and Omawale were later charged with arson while she was charged with larceny of a National Service kit. Her matter was transferred to courts in Berbice as it was there that the offence was allegedly committed. The case lasted for six years, she said, owing mainly to her lawyers being unable to travel for some of the fixtures. This problem was also faced by the then prosecutor Ian Chang, she said. She said that when the matter ended in 1985, there was no conviction recorded.
Around the Web