-says PNC youth arm plotted to kill him
Rev. Reuben Gilbert, a close friend of Dr. Walter Rodney, yesterday testified that he had a premonition that the political activist would be assassinated just days before he died in 1980 and that an attempt was made on his own life by the youth arm of the then governing party.
"Three days before he died I had a feeling. I don't know… it was not something you can explain and a lot of people don't believe that there are spiritual forces in the world and you can't convince them but I had this intuition… a terrible, uncomfortable feeling…" Gilbert, 78, testified when public hearings hosted by the Commission of Inquiry (CoI) into Rodney's death continued yesterday at the Supreme Court Law Library.
Rodney, who was the co-leader of the Working People's Alliance (WPA) and an activist who had openly opposed the PNC government at that time, was killed in a car near John and Bent streets on June 13, 1980, after a walkie-talkie given to him exploded. The party in government at that time has long been accused of killing Rodney despite repeated denials over the years.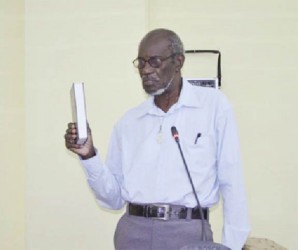 Gilbert recounted that his premonition nagged at him and he visited Rodney to tell him that he would be killed. "The first thing that I thought is that he would think that we are planning something but the longer I took before I went to him is the more I felt that I should tell him," he said, before recalling the day he visited Rodney. "He said 'Reuben come in' and I said, 'No I'm not coming in… I don't want to tell you that you are going to be killed,'" he stated.
He said Rodney asked if "he knew of any situation" but he said no. "Three days after he was killed," he said.
He stated that on the night of June 13, 1980, he heard on the radio newscast that a man was blown up and his face was disfigured. "I knew it was him because the feeling was in my body but I didn't know when and how," he recalled, adding that during Rodney's last visit to his house sometime before his death he had expressed concern for the survival of his wife and children.
Gilbert said it was after Rodney's death that he recognised Gregory Smith, the man who handed the walkie-talkie to Rodney, in photographs. He also stated that sometime in 1978, he had gone to Rodney's office in Tiger Bay one night and was standing at the front of the building when three men approached him and inquired about Rodney. He recalled calling Rodney and seeing him and the three men go behind the building. He further stated that he was not aware of their conversations and it was only until 1980 that he identified one of the men as Smith.
 Murder plot
Gilbert also told the commission of a reported attempt on his own life earlier in 1980. He recalled driving home when his neighbour suddenly flagged down his car, demanding that he stop. "…a neighbour, they call him Jimmy but his name is James Daniels, rushed out of his gate and he flagged me down very anxiously and I stopped. And he said, "You have a guitar case in your house?" he said, noting that he was immediately taken aback by Daniels' question.
He said Daniels told him that "they are going to come kill you tonight" and he got scared. He said that he knew that the "they" Daniels was speaking about were Young Socialist Movement (YSM) hitmen, because his neighbour was a member of the PNC party at the time.
Daniels, he said, related that the men had planned to kill him and then say he had a gun in the guitar case. Gilbert said the only person who could have known that he had a guitar case in his house was a woman who would clean his house and babysit his two sons.
"I called my brother, Neville Gilbert, and told him that I wanted him to stay at my house but I did not tell him why because I knew if I told me he might not want to do it," he said, adding that the he then drove up to the University of Guyana and parked his car and stayed there the entire night.
He recalled that when he returned home the next day, his brother said that some men had visited the house and asked about his whereabouts. He said that his brother confided that the "people from the YSM came" and that was when he told Neville that they would have killed him if he stayed in the house.
He also related that three days after Rodney's death, he was seized by three members of the "death squad" and thrown into a van where he was beaten. He said he was carried to the CID headquarters.
He said the men took "the opportunity to put some blows on me and butt me to the head" before handing him over to the East La Penitence Police Station. While being transported to the station, he recalled one man threatening him, saying "You boss dead and we gon soon get rid of all of you."
Gilbert said he was accused of "gun runnings" by an officer at the station and was surrounded on all four corners by police with guns who threatened him to write a statement. "They asked me if I wanted to see my next birthday… the whole country was dangerous," he said, noting that a few weeks after his release from prison he left the country. "What was happening to me was happening to hundreds of people," he added.
 YSM attacks
Attorney Basil Williams, who is part of the legal team representing the PNCR at the public hearings, cross-examined Gilbert about his claim that the YSM and the House of Israel were responsible for the disruption of many of Rodney's public meetings with the WPA. Gilbert had said that he could have identified the YSM by their actions and hatred for the WPA. Williams argued that he could not have known the YSM members because they were young people. However, Gilbert replied that he knew them "because they come and break up the meetings and beat up people with sticks," while adding that his brother, Neville, who was a member of the PNC, would point out the members to him. "He would say to me that that's one of the persons from YSM…but you know them from their actions and their hatred for people who associate themselves with Walter Rodney," Gilbert said.
He said one time while he was at a WPA meeting, the police tear-gassed the place and Rodney jumped up on the top of a car and told the people to get down. He said the House of Israel and YSM were present that day and beat them with sticks.
Gilbert also stated that he was denied work under the PNC's rule, noting that within less than a month of being hired he was issued a dismissal letter from the Ministry of Economic Development. He said when he approached the Permanent Secretary of the Ministry he was told that he was a "security risk."
Gilbert testified that instructions had been relayed from the Office of the President by then Prime Minister Forbes Burnham to not employ him. (He noted that he eventually got a job as a teacher at the Covent Garden Secondary School after the intervention of PPP leader Dr Cheddi Jagan.) He added that he sought a meeting with Burnham and after granting him an audience the then head of state asked him about his politics and why an article that he wrote was placed in the PPP's Mirror newspaper instead of the PNC's New Nation newspaper. He noted that in answering the former he explained that his politics were to see the upliftment of the people.
Williams, cross-examining Gilbert, asked if his article had expressed anti-government sentiments and he said no. He stated that he had written about the "fearful atmosphere of the country" since it was not the Guyana he had left in his younger days. "I was very concerned about that—why people were fearful of the government," he said.
Around the Web