Nandanie Mohan, who was discovered dead in her home along with her partner after an apparent murder-suicide, died of strangulation, a post-mortem examination found yesterday.
The examination was conducted yesterday morning and was witnessed by Nandanie's younger and only sibling, Nalinie Mohan. Nalinie, also known as 'Simone,' had been the one to discover her sister's dead body at her Non Pareil, East Coast Demerara home.
"I felt terrible witnessing it," she said. "It was real terrible; I was shocked."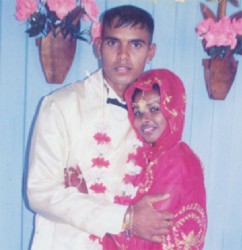 The dead bodies of Nandanie and Vickram Ramdin were discovered on Sunday evening after Mohan's family had gone to the house following her absence from work.
Nandanie's body was found on a bedroom floor while Vickram hung a few feet away, suspended by bed sheets.
An autopsy was also conducted on Ramdin's body yesterday.
According to reports, the couple's eleven-year-old relationship had been rife with problems for years.
Around the Web