– set to produce first gold bar in 14 months   
The Aurora Gold Mines is set to produce its first gold bar in 14 months, after starting work to establish an open pit and underground mining operation in January.
"The activities have moved from prospecting 10 years ago, and now they are moving into the construction of a plant, and if all goes as planned about 14 months from today they should have their first bar of gold," Prime Minister Samuel Hinds said during his weekend visit to the Guyana Gold Fields Aurora Gold Mines in Region Seven.
According to a Govern-ment Information Agency (GINA) press release, the Aurora Gold Project is designed to produce 3.29 million ounces of gold, averaging 194,000 ounces yearly. The mining area was known for about 100 years before it was developed.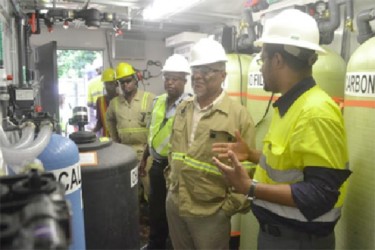 "When I visited 10 years ago they were prospecting, and we saw some equipment from some activities from way back," Hinds said. He explained that the operation would start with an open pit and then continue into an underground operation and they will soon look at the possibility of extending the life of the plant or make way for a bigger one. The Aurora Gold Mines has a project life of 17 years.
Meanwhile, the company's General Manager Vic Rozon revealed that they started construction in January 2014 and set a completion date of May 2015. To date the company has had investments from Australia and Peru which have provided employment for hundreds of Guyanese. "Construction of a road project has begun and we were working on other infrastructure areas such as dams and bridges and airstrips and also getting the mine areas ready for production. There is a lot of work ahead of us, so far we are committed," Rozon said.
Rozon also said that he was pleased with government's commitment to the company through its provision of the necessary duty-free concessions and other forms of support.
According to GINA, the company will employ a total of 900 (mostly Guyanese) staff for the 2013-2014 construction phase. Routine operations will see as many as 500 staff employed and, according to company officials, up to 95% of the workforce will be local employees.
From its initial launch in 1996 to 2013, about US$192 million has been invested. US$249 million will be invested from 2013 to 2014, with US$153 million to be spent from 2015 to 2017. The mine is projected to be in operation until 2031.The company's management team took a decision to reduce the "carbon footprint" of the site's mining plant from 2,000 hectares to 1,200 hectares. The Environmental Protection Agency and the Guyana Geology and Mines Commission's Environmental Division will be upgrading their monitoring capability and enforcement capacity to manage and ensure compliance, the release said.
Around the Web