A vendor was yesterday accused of stealing over $700,000 worth of household appliances and assaulting his girlfriend.
It was alleged that Richard Gibson, 32, 232 North Ruimveldt, broke and entered Ethan Cordis' Alexander Street, Kitty home on April 10, and stole a quantity of household appliances, including ceiling fans, amounting to $734,000.
He pleaded not guilty.
It is also alleged that Gibson on January 9, at Alexander and David streets, Kitty, unlawfully assaulted Rihanna Baptiste. Again, Gibson denied the allegation.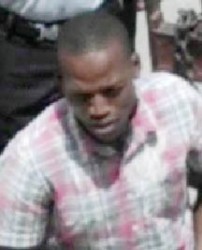 The prosecution said that Gibson, on April 10, was seen exiting the compound of the house with a bag on a bicycle. Prosecutor Deneashwar Maindranauth told the court that the matter was reported and the defendant was arrested.
Maindranauth asked the court to deny Gibson bail in the theft matter, on the grounds of the prevalence of the offence and in light of Gibson having pending matters before the Georgetown Magistrates' Courts. The prosecutor also objected to Gibson receiving bail on the assault charge, save for a bond to keep the peace pending the outcome of that matter.
But Gibson told the court that he and Cordis had an argument, during which he alleged that Cordis threatened to have him locked up. He further complained about the refusal of police ranks at the Kitty Police Station to take his reports whenever he attempted to lodge one, after the argument with Cordis.
Subsequently Magis-trate Fabayo Azore granted Gibson $100,000 bail on the break and enter and larceny charge and adjourned the matter until May 15, when a report is expected to be submitted to the court.
Furthermore, Gibson received $25,000 bail on the assault charge and the matter will be called again on May 6 in the Georgetown Magistrates' Court 10.
Around the Web