-pretended not to recognise Walter at funeral parlour out of fear

Closing off the first session of the public hearings for the Commission of Inquiry (CoI) into the 1980 killing of political activist Dr. Walter Rodney, Edward (Eddie) Rodney yesterday charged that his brother's killing was an "act of terrorism by agents of the state."
Eddie Rodney said the political and social atmosphere of the nation at that time was oppressing and consumed with fear since there were shortages, searches, intimidation, and resistance from the population. He said his brother Walter was one of the people killed in an "act of terrorism" by state agents.
The CoI was set up to probe the death of Rodney, Co-leader of the Working People's Alliance (WPA). He was killed in a car near John and Bent streets on June 13, 1980, after a walkie-talkie given to him exploded. The PNC, the ruling party at that time, had long been accused of his assassination and has continued to reject any association with the killing.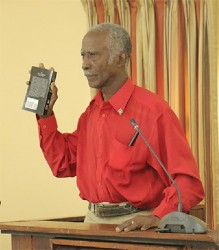 Taking the stand for a second time, Eddie Rodney said that Guyana was under a dictatorship at the time. "The dictatorship that was existing in Guyana was administrative, political, multi-racial dictatorship…You had to look specifically to see what the traits were…to see what was specific about (the) Burnham dictatorship compared to others," he said, adding that the state used the "constitution, the laws and terror" to control the people.
He said Walter knew that his own life was in danger but he "wouldn't say it openly". "But we both knew that we were on the front line," Eddie Rodney stated.
He said on June 14, 1980, a day after Walter was killed, he was taken to a funeral parlour to identify a body in a box. He said he immediately recognized that it was Walter because of his distinctive facial features.
He added that he became alarmed when a police officer asked him "which one is this?" He said he told the officer that he did not know who the man was in the box because he did not want to give out any information that would place him in the "same fate as Walter".
He was asked by the Commission's lead counsel, attorney Glenn Hanoman if he knew who the perpetrators of Walter's killing were and said he could not say because he was not present at the time Walter was killed. "Donald Rodney (another brother) was present at the scene I was not," he said.
Eddie Rodney also noted that the situation of the country had deteriorated and people were being terrorized by certain security units. He recalled that the people would be drinking in shops and Guyana Defence Force (GDF) officers would interrupt them and ask what they were talking about.
He said in 1979 there was a particular incident where a Beterverwagting resident was murdered. He said the man was walking from Buxton to his village when he was surrounded by "vigilantes". He said that the next day the man was found dead.
"Fifteen persons were arrested and I happen to know three persons, who would be described as close supporters of the PPP," he said, noting that the others he knew from seeing them around at his work place in Mon Repos. He said persons were influenced to form the vigilante group by an "enforcer" in the GAWU.
He said immediately after the killing of Walter, the WPA had released a statement warning people not to be deceived.
He added that from his experience it was not a walkie-talkie loaded with explosives that killed Walter.
He said from the appearance of Walter's torso it showed that an explosion had been caused by a detonation of some kind. "I don't know what it was. Some people said it was a walkie-talkie device, however it was consistent with something called an anti-personnel device," he stated.
He said the device was either thrown, planted or posted and it was regularly used in the past by intelligence services. Basil Williams, who is part of the legal team representing the PNCR at the public hearings, however objected to Rodney's statement on the grounds that he was not an expert on bombs.
Eddie Rodney, however, had served in the military overseas as a signaller. When questioned by Hanoman if the walkie-talkie could function as a walkie-talkie if large amounts of explosives were placed in its body, Rodney replied in the negative.
He stated that there was not enough space in a walkie-talkie to contain large amounts of explosives, while adding that the device was used to give the impression that it was a radio set. "It had the other casing and appearance of a walkie-talkie but in actual fact it was an explosive device."
Hanoman then asked if he knew of any information that his brother had enemies outside of politics and he said no. Hanoman further asked if his brother was collecting explosives. He answered: "I see no reason why Walter would have wanted to get his hands on explosives".
The question was put to him as to why Walter would have wanted to collect walkie-talkies and he said his brother might have been trying to set up a communication network.
"I think Walter recognised it as being able to communicate…not just to speak with people at public meetings but also to get feedback and for people to speak to him," he said, noting that since Walter was self-reliant he would have used local expertise to create the radio sets rather than import commercial products that could be damaged in a short time.
Hanoman asked him if he knew of any personal problems Gregory Smith, the man long accused of handing Walter Rodney the walkie-talkie that exploded, had with his brother and he said he did not know of any.
He said Smith was a member of the GDF but after Rodney's assassination the GDF had denied his membership.
He said that he learnt from a book "Assassina-tion- Cry of a Failed Revo-lution' by Ann Wagner and Gregory Smith that there were lithographs of devices that Smith said he had given to Walter Rodney. The Commission then admitted and marked the book as an exhibit in the hearings.
Smith was known to be an electronics expert in the GDF before leaving the country shortly after Walter's death. It was believed that the GDF and the state had arranged his departure. An arrest warrant was issued for him in 1994. He died several years ago in French Guiana.
Rodney had previously testified that The House of Israel was a "hit squad" with links to the police and the then PNC Government and among its members was Smith.
The CoI is chaired by Sir Richard Cheltenham and comprises Seenath Jairam, S.C. and Jacqueline Samuels-Brown, Q.C. The CoI has scheduled the second segment of the hearing to commence on the May 27.
The CoI is the first inquiry to probe the death of Rodney. It has been criticised over its composition and its terms of reference by the WPA, APNU and others.
Around the Web