Samuel Elvis, a policeman who had his right foot amputated after he was shot by another rank who was clearing his gun, wants the Guyana Police Force (GPF) to look into his plight and offer support.
Elvis was shot on April 20 by a corporal after he had returned from an operation where he was instructed, along with other ranks, to uplift a lost weapon belonging to the Guyana Defence Force (GDF). The incident occurred at 8 am.
He said they had returned to the Police Headquarters in Eve Leary to lodge the weapon when the corporal picked up the gun and cranked it. "I was not alert because I was accustomed to hearing guns cranked but then I feel a numb sensation in my knee," Elvis told Stabroek News yesterday, withering in pain.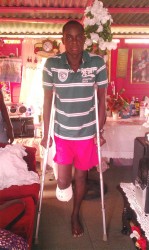 He said when he looked down at his foot he saw blood seeping out of his pants and the rank was saying "Sorry, sorry." He said he was transported to the Georgetown Public Hospital (GPH), where he was quickly bandaged to staunch the bleeding.
Elvis related that he had had several arguments with the corporal prior to the day of the shooting, however, he could not say that the action was deliberate.
When he was rushed to the hospital, he said he thought the doctors would have x-rayed his foot. Instead, they wrapped the foot and stopped the bleeding. He said one doctor told him that his foot might be amputated depending on where the bullet was lodged. "I started to get nervous," he said.
He added that after the surgery he noticed three of his toes on the injured foot turning black and when he consulted with the doctor he was told that it was probably blood clots. He stated he was given medication to stop the clotting. The doctor, he said, also instructed him to flex his toes but as the days went by his condition worsened and his mother asked the police welfare officer to have him transferred from the hospital.
"This wouldn't have happened if the welfare officer had listened to my mother when my toes started to get black," Elvis said, pointing at his foot. "They should have allowed me to be transferred to a hospital from the beginning, to a hospital where I coulda get proper attention."
Elvis also berated the treatment he received at the hospital from nurses, saying that some nurses would sit at their desks and ignore him whenever he called for help. "Many nights I getting pain and when I call for the nurse—they does be right in front by the desk—and they don't come to attend to me even though they heard me calling," he said.
He said that on April 4, he was transferred to the Woodlands Hospital and was told that the skin tissues on his foot were damaged beyond repair and there was a five per cent chance that doctors could save his foot after surgery.
Joylyn Elvis, Samuel's mother, said she believed that the amputation could have been prevented if the GPH had performed an x-ray on the injured foot from the inception when he was rushed to the emergency unit. She said the hospital had "wasted time" while operating on her son.
Elvis' foot was amputated on April 15 and he has since been supported by his parents.
He said the Corporal had offered him $200,000 but he had refused it because it could not pay his hospital bills. He said he found it "hard to get around" and he was worried about how he would provide for his one-year-old daughter. "I'm not accustom to walking like this…," he said.
He called upon the acting Commissioner of Police Seelall Persaud to look into his plight. He said he was informed through a welfare officer that he would be given a desk job and a prosthetic leg but no one from the force had contacted him to confirm the information. "I'm very disappointed with the force because I feel like I wasn't a member even though I worked there six years. It's only when you get health and strength everybody does like you but as soon as you get sick nobody know you," a distraught Elvis said.
He said he had received no visits or calls from the police force since he was taken to the hospital. He also called for the rank who shot him to be disciplined. "I ain't know if he intended to shoot me or it was a mistake but all I'm asking is that he be disciplined.
"It is really bad nobody ain't coming to see me…I serve them for six years and this thing happen while I was on duty. It's not like I was liming by some corner. I was on duty," he lamented, before adding that the treatment he received was "really shameful and disgraceful."
He said he had received support from the GDF, which paid for his hospital bills and bought him a crutch to aid his walking. However, he stated the support stopped after the GDF was told it was a police matter. "The GDF was helping me a lot. They played a good part from the start." He said. "It's this that is making me feel real bad I is not a solider. I'm a police and it's the GDF that helped me."
Around the Web