The mother of the teen shot in his mouth by a policeman late Wednesday evening, after he denied knowledge of a robbery, expressed concern at strangers visiting her home asking her to come to a compromise.
Three days after Alex Griffith, 15, was shot, his mother Marcel Griffith, told Stabroek News, two men in the company one of her neighbours, visited her home at about 8 am, and asked her to come to a compromise.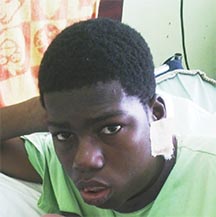 Marcel said after she asked them to leave, a man questioned her reluctance and expressed his disapproval at her by shouting.
"I don't want anybody say anything to me," Marcel told this newspaper, adding, "They could've killed me child." "You can't damage somebody child and expect then to settle," she said. Moreover, the frustrated woman said she had informed the police of the visits and they told her to take photos of such future visits and report it to the police.
Meanwhile, the wound at the back of lad's throat is healing, Marcel said, but she was unable to say what could be done about the hole in Alex's tongue. She said a doctor from the Georgetown Public Hospital (GPH), was to meet with her to discuss Alex's condition in detail, including a possible surgery. Alex is still an admitted patient at the GPH.
According to reports, Alex was forced to open his mouth and was shot while in the custody of the police ranks, who told his mother they were taking him to the Brickdam Police Station.
They had earlier inflicted a severe beating on the teen in effort to retrieve information about a robbery committed against a relative of the rank who allegedly pulled the trigger.
The matter is under investigation.
Around the Web