Tameshwar 'Rambo' Khemraj, 27, the second accused in the $10M robbery at Rose Hall Town, Corentyne was remanded to prison when he appeared at the New Amsterdam Magistrate's Court on Friday.
The court heard that around 7:15 am on Wednesday, April 9, Khemraj, 27, while armed with a gun, allegedly robbed Ramlingum 'Buddy' Mangalie $10 M.
The matter is scheduled for May 20 at the Albion Court. The defendant was represented by attorney-at-law, Charrandas Persaud. The case is being prosecuted by Sergeant, Godfrey Playter.
Reports are that the businessman, who owns the Permaul's Snackette together with his father and brother, was about to make a deposit at the Republic Bank when he was attacked and robbed by two men.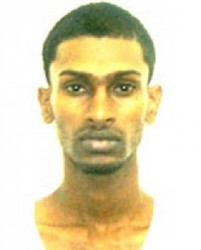 Mangalie had just pulled up in front of the bank with his van PPP 1632 when Khemraj and his alleged accomplice, Davendra 'Bara' Harricharran, 27 rode up on a motorcycle, without a licence plate and fired a shot.
They then grabbed two bags, one containing $3M while the other contained, $7M, belonging to his brother, Subramanie Mangalie.
Harricharran, of Nigg, Corentyne also faced charges a few days earlier and was remanded to prison. Khemraj, who had other matters pending at court, showed up at the Albion Court on Tuesday and was arrested.
Meanwhile, Khemraj was charged with using threatening language to Odessa Narine on April 9 at Nigg and with being in possession of six grams of narcotics on April 29. He was fined $10,000 bail each for those charges.
Around the Web