– as Roman Catholic community joins fight
The Guyana Women Miners Organisation (GWMO) in partnership with the Sisters of Mercy and more so the Roman Catholic community is set to open the first ever home for survivors of human trafficking which is aimed at ultimately giving them a fresh start in life.
GWMO President Simona Broomes has long decried the conditions under which human trafficking survivors are accommodated by the authorities. It has always been the desire of the organisation to provide a home for survivors. Over the two years that the GWMO has rescued women, some have returned to interior where they were being trafficked because, according to Broomes, they were not given the opportunity to really start over.
And so through the actions of Roman Catholic Bishop Francis Alleyne a building on Princes Street has been made available to the GWMO to use as a home and soon a memorandum of agreement would be signed between the organisations for the use of the building.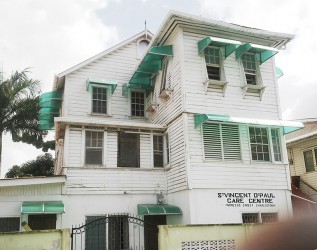 In a recent interview with the Sunday Stabroek, Broomes said the facility would be a home and not a shelter and it would be managed by a soon-to-be installed board of directors.
Last Sunday the GWMO along with many volunteers and even inmates from the Georgetown Prisons were involved in a massive clean-up of the building and it is hoped that through the donations from companies and organisations the necessary repairs would be effected.
Broomes, who said she would be approaching mining companies among others for assistance, hopes that by the end of the year the home can open its doors.
In the three-storey building it is envisioned that the bottom floor will house a counselling room, a computer lab, a study area with a small library which could be used by volunteers to teach survivors, dining and living room areas. There would also be a modern kitchen on that same floor that could also be used to train survivors.
According to Broomes, they are hoping that the government and more so the Child Care and Protection Agency would embrace the idea and work with the GWMO and be committed to using the home for survivors.
It is expected that survivors would remain in the home for at least a year to really give them a chance to start over. During this time, they would be counselled but also more importantly provided with skills that would equip them to stand on their own.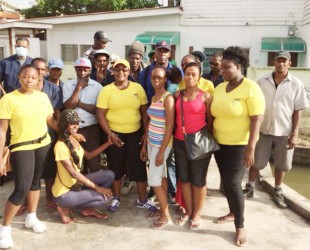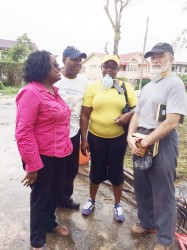 The second storey will house trafficking survivors below the age of 18 and the older ones will be accommodated on the top flat. Broomes said that at any one time 10 survivors could be accommodated.
Given the location, Broomes said there are plans to install an alarm system and surveillance camera as well as hire a security guard.
And while the home will have rules, Broomes was quick to point out that it would "not be a prison because we don't traffic we rescue.
"We want the survivors to [say] this is my home, I am going to take care of it. They don't have to try to jump through the window and break their leg as what is happening at the other location where we have all these problems and these complaints…"
She said the house mother would supervise the survivors in their cooking and washing and essentially they would take care of the building and clean and ensure all is well.
"There is also an area for a kitchen garden. We really want to give them a home because most of the survivors never had that and we really want to make it work," she said while calling on all Guyanese to embrace and support the initiative.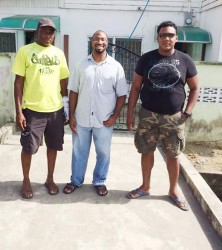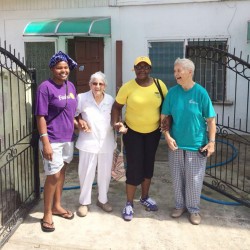 Speaking to this newspaper Sister Judith Schmelz made it clear that it is not a Sisters of Mercy project but one that solely belongs to the GWMO whose members are familiar with what is happening in the interior. But she said they came on board because the world governing body of the Sisters of Mercy is very concerned about human trafficking.
"The Sisters of Mercy is very concerned about the problem of trafficking and we are a part of the institution of the Sisters of Mercy of the Americas and so we are interested in it globally but we have to start locally," Sister Judith said.
She said the international body has been doing various things in other parts of the world and it was decided that the local chapter of the Sisters of Mercy should also get on board.Sister Judith said they were not sure about how to do this but knew that the "sensible thing to do" when tackling a problem that is complicated is to work with another group that is already working in the area and understands it better.
"I kept thinking, I look around and I don't see any trafficking… I don't think that we [Guyana] has a big problem and all of a sudden while I am trying to figure out how on earth we do this there is this big spread in the newspaper about what the [GWMO]…has done and all of a sudden the whole world opened up and I realized what a huge problem it was in Guyana," she said.
After it was decided that they would work with the GWMO, Sister Judith said, they had a meeting with President Donald Ramotar to find out if there were ways they could work with the government on the issue but also to inform about what they were doing. While not a "whole lot came out" of the meeting she said she knew he was listening as three ministers were also at the meeting and for her it was a "profitable meeting even though I didn't have any great expectation of any action following it.
"And so we are [here] in a secondary role. It is not our house. It is not our programme but we stand ready to support and encourage and some of us have different skills that we might be able to volunteer but it would strictly be on a volunteer and supportive kind of measure," she told the Sunday Stabroek.
Conference
According to Sister Judith all of the sisters in Guyana meet once a month and it was there that the idea of a conference on the issue was mooted. The idea of making the building available was born out of that conference held in November last year in an effort to "try to raise our own consciousness of the problem and other people's to make them more aware." At that conference Broomes was the key speaker following which volunteers were enlisted all of whom wanted to contribute to the GWMO's work in some form. Some pledged to donate money, supplies, others to volunteer their services in tutoring and other skills, with the St Joseph Mercy Hospital offering some medical services to victims. The hospital has already reached out and helped survivors.
"She [Broomes] was looking for a place and it was at that conference that the Bishop said to Sister Julie [Matthews] who is the head of our organisation, 'I have a building that I think I could make available' and that is where the idea came…," she said.
For Broomes the fruits from that one conference cannot be compared to any other engagement they would have had. She noted that people did not just sit and listen as has been "the pattern" of many persons but were ready to get up and do something tangible.
"That engagement was the best we have had and it is the most fruitful one…," Broomes said adding that Bishop Alleyne stood by his promise to assist with a building and she was even surprised about how quickly it happened.
For Broomes this is like a dream come through as she pointed out that after two years of rescuing survivors it is their wellbeing that she is most concerned about and it pains her that they are never really given a second chance as the system does not really provide for them. Because of this, Broomes said, some of the victims return to the interior while others just prostitute in the city as they feel there is no other alternative.
"This building really is to give them a chance at life…," Broomes said adding that many are still questioning whether it is a feasible venture as they do not believe the survivors would see it through. But for her, if is just one survivor is afforded the opportunity to have a second go at life then "the building would have served its purpose and I know there is going to be more than one."
She recalled that they would have had several discussions with government officials where the idea of a home was raised but it never went past the discussion stage.
Sister Judith said when the clean-up for the building was organised she sent out correspondence to all the persons who attended the conference and many of them volunteered their services in various ways last Sunday.
Even though she is almost 90 years old Sister Judith is very alert and still tutors and uses the computer. In fact she is helping the GWMO to write up a proposal to source funding since she has skills in that area and knows of organisations that may be willing to support the organisation's work. She said she is specifically tailoring the proposal to seek assistance for the management of the home and as a result she has to include what are the expectation for the survivors after they would have been accommodated at the home.
"Eventually they [the survivors] need to stand up and speak whether it is in court or wherever because hearing from the victims is much more important than hearing from Simona or other members of the GWMO," Sister Judith said adding that they also expect the victims would take part of in the provided programme and be responsible for the home.
It is also hoped that they would be provided with enough skills so that they can then get a job. To this end, Broomes said, the GWMO has made some headway as she recalled that BK International has not only offered to train women but also to employ them once they have the requisite skills. She has also approached the new mining company Troy and has had discussions about employing women.
Sister Judith also pointed out the complex issue about being able to stop the problem at the source, noting that unless this is done then "you could be doing this for the rest of your life." She said while a way has not yet been figured out to do this, there could be education about parents and children so that they understand the dangers and "not be taken up by this offer of a job in the interior and they are going to make all this money but end up as slaves." The Sisters of Mercy in the interior, she said, would also get on board the education initiative. Other institutions under the Roman Catholic faith would also be approached to be involved.
Around the Web