TravelSpan yesterday introduced to Guyana its 727/300 aircraft and General Manager Vanita Jagnarain said the new addition would expand the airline's service.
Jagnarain stated that with the new aircraft working in conjunction with TravelSpan's current 727/200 aircraft, flights to Trinidad will be offered on Tuesdays and Wednesdays during the peak season at a cost of US$283 tax inclusive.
Jaganarain also said TravelSpan is looking into expanding its flight services to other Caribbean islands in the future and she noted that one of the benefits of travelling with TravelSpan's new aircraft is that it is a United States-based aircraft and as such travellers will not be required to disembark during in-transit flights.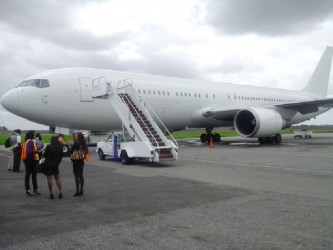 TravelSpan is promising to deliver excellent quality service with the new aircraft, which is very spacious and comes with a head rest and television in all seats.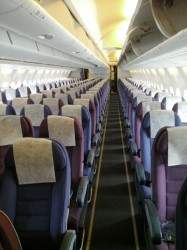 During a media tour yesterday, David Goberdan, TravelSpan's Operations Manager, said the aircraft is about 10 to 11 years old and has a total of 221 seats; 191 economy seats and 30 first class seats. The aircraft also has the capacity to carry 350,000 pounds in takeoff weight.
Goberdan said the aircraft also has the capacity to take on board 500 bags plus cargo space availability. He said bags are not thrown into the aircraft's storage as was traditionally done but rather traveller's bags are placed in waterproof cans and loaded onto the aircraft.
The approximately 250ft-long plane has the ability to be in air for nine to ten hours, flying 500 miles per hour, according to Allen Drozd, who was hired to be the operator of the aircraft.
Meanwhile, speaking about employment of Guyanese to work on the new aircraft, Jagnarain revealed that a total of 31 Guyanese have been shortlisted for jobs and she hoped that Guyanese would be on board by August.
Around the Web