– director of unit says dengue fever remains a concern
Despite a rise of mosquito-borne diseases in the region and South America, there has been a "noticeable" drop in malaria transmission in Guyana in 2013 while dengue fever continues to pose a major threat, Director of the Vector Control Services Dr Reyaud Rahman has said.
Even though he was not in a position to release current figures, Rahman estimated that there was a little over 31,000 cases of malaria in 2012. But those figures, he told Stabroek News, fell in 2013 after the unit stepped up its field works and awareness campaigns. "We were able to bring down the figures to 30,000 cases and that number has been dropping," he said, noting that there had been less than 20 recorded malaria deaths.
Malaria, a communicable disease that is carried by the female Anopheles mosquito, affects over 219 million people worldwide every year. It is caused by the presence of tiny parasites in the blood and exists predominantly in mining and loggings camps because the mosquitos are present in the forests and swamps where there are water logged areas and excavations that have not been filled.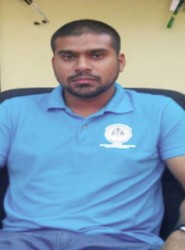 Rahman noted that the Vector Control Services was seeing roughly 80 to 150 patients per day and 200 to 250 patients per day during peak period in 2012 but those numbers dropped in 2013 to 30 to 80 patients per day. "It is a noticeable decrease," he said.
He said they had distributed bed nets to the endemic regions—One, Seven, Eight and Nine—where there were mostly miners, loggers and Amerindians lodging.
"We carry out indoor residual spraying on the walls of buildings and camp sites…," he also noted. He explained that the insecticide has a residual effect and would stay on the wall for two to three months. As a result, when the mosquito lands on the sprayed area it picks up the insecticide, which would shorten its lifespan.
He said the use of DDT (dichloro-diphenyl-trichloroet-hane) was discontinued because of the harmful biological effects it had on humans and Fendona is now being used. "It is better because there is no side effects," he said, adding that it still kills the mosquitos.
Treatment challenges
Rahman said one of the major issues that the unit faces is self-medication, where miners and loggers stay in their camps and use drugs that were not prescribed to them. He said it is a serious problem because they would not be able to tell what type of malaria is affecting them and thus self-medication would not help them.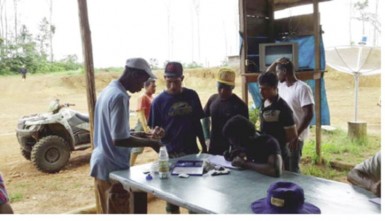 "The people are using drugs that we did not prescribe them to use. The shops sell the drugs and miners go and buy it," he said. "It is a bit reckless because they don't know what type of malaria they have…," he added.
He further stated that miners who travel deep into the backdam and get infected would usually prefer to stay in their camps because it would take hours to get out of the forest. "Miners, specifically those who are making gold, will stay in their camps and drink something and they will not come out to go to the hospital unless their condition [is] extremely serious," he said.
"They drink a tablet to prop themselves up to continue working," he added, highlighting another challenge which hinders his unit from achieving a malaria-free society. He stated that some patients would go to the hospital and when instructed by doctors to use a certain amount of pills for a certain amount of time but they would not heed the directions.
"If they are instructed to drink ten tablets, they drink two to three doses and when they feel better they stop drinking the tablets and they keep the rest for a next time, so that when they feel sick in a couple of other weeks they drink the same set. And that is actually bad because they need to complete the prescription and eliminate all the parasites," he said.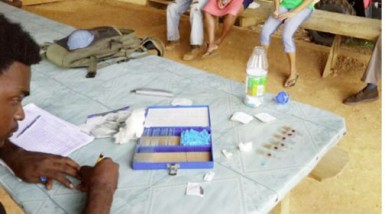 Rahman said that compliance from the population is needed and he insisted that people get tested, use the right drugs and stay away from counterfeit drugs as well as access public health centres, take all their treatment and use bed nets to protect themselves.
He further asserted that the public health care system was the best system since "we do the right thing by smearing you first—which is the gold standard for malaria diagnosis. We give you the best drugs and we can assure you that it is of the best quality." He added that the unit is working closely with the Government Analyst Food and Drug Department to eliminate counterfeit drugs.
Most of the Guyanese population, he said, is not educated on the effects of vector-borne diseases and therefore some cases go unrecorded. "So we go into the vulnerable communities and we follow the people and treat them," he said, noting that majority of the work is conducted in the fields.
"We go with teams into the malaria endemic regions and smear people to see if they are infected…we actually follow people around," he said. "These are extremely dangerous terrains we to go to reach these people. It is a highly practical job to get to where the population is and follow them but we know for a fact the only way to stop malaria in Guyana is to remove their reservoirs— in which case would be humans."
However, he said this posed another problem because most of the endemic areas are mining areas, and the country depends heavily on mining.
Dengue threat
Dengue fever, on the other hand, remains a problem for population of Georgetown. He said a lack of staff and lack of cooperation from the population has caused dengue fever to remain an issue.
"We are not able to inspect all yards. And the public is also at fault because there are a lot of containers that hold water and are not covered… these are huge mosquito breeding sites," he said. "We are urging people to empty their containers, cover them and weed their yards so we can reduce the cases of dengue," he said.
He said the fever is treated symptomatically, where patients are given drugs according to their symptoms. "They are treated according to the symptoms they have. So, if they have a headache we would prescribe a regular drug for headaches. So you should not be using any antibiotics for the treatment of dengue fever," he said.
Rahaman also noted that his unit is monitoring for any signs of Chikungunya, another mosquito-borne disease.
Even though he stated that it has not recorded any cases of the disease, he said the unit was vigilant and prepared to combat it if it ever surfaces in Guyana. The treatment, he said, is also treated according to the symptoms exhibited.
Around the Web