Commander of 'B' Division, Brian Joseph says efforts to tackle crime in Berbice have been intensified, resulting in a reduction in the rate and in wanted men being caught and placed behind bars.
In an exclusive interview, he told Stabroek News that efforts, including nightly patrols and roadblocks, especially in the areas of the Berbice River Bridge and at Fort Wellington, have been "bearing fruit."
Joseph, an assistant commissioner, said too that two mass patrols were held recently in Berbice while other crime fighting initiatives have also been put in place.
He noted too that the crime rate for this year is lower than the corresponding period last year.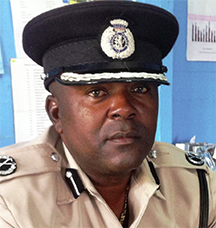 This was achieved, he said, despite the fact that the force is "short" of adequate ranks to do the job.
According to him, "Everybody knows that when the area is flooded with police, it tends to deter persons from committing offences. The presence of more ranks definitely helps to bring down crime."
Lamenting that even though "the numbers out there is not enough, I am not complaining. We are using the resources available to us and we are getting things done."
Speaking about the successes of the force, Joseph said "we have been solving a lot of serious crimes recently", mentioning that the police arrested and charged a suspect – Krishendat 'Apple Boy' Seeram – in the $1.7M armed robbery in Black Bush Polder. He has been remanded to prison.
Seeram's brother, Vinod Gopaul who escaped from prison more than five years ago was also said to be involved in the robbery.
They had reportedly stormed through back door of the Yakusari, BBP home of an elderly couple; Baijnauth and Kalawattie Niwaz on April 22 and attacked them before escaping with the cash.
The couple who are rice farmers had left their doors open while relaxing. They heard the dogs barking and by the time they realized what was happening and tried to close the doors, the bandits had already barged in.
Two other suspects; Davendra 'Bara' Harricharran and Tameshwar 'Rambo' Khemraj, both of Nigg, Corentyne who robbed an Albion businessman, Ramlingum 'Buddy' Mangalie of $10M have been remanded to prison after facing charges.
The police have also been providing a lot of crime tips to residents about securing their properties and not leaving their doors and windows open.
The commander said too that they are concerned about the prevalence of break and enter and larceny and are working on strategies to reduce that problem.
Meanwhile, members of the public have been coming forward with information which the police have been using successfully.
Joseph said that following a "walkabout" in some communities, "persons are more open and are speaking to us."
He observed that "people are more comfortable when you go to them; they speak freely, give out information freely." They prefer that rather than "the town hall style meeting where they are fearful of giving out information."
The commander is satisfied that the police are "doing a lot of work in Berbice." He said too that they are getting a lot of support from the members of the Community Policing Groups (CPG).
The presence of the CPG members has been helping to reduce crime in some areas and the police are "seeking to have more CGSs."
In addition, the police have started to form youth clubs, with the first one being at the new scheme at Fort Ordnance, Canje. The idea came after there were a few reports of break and enter and larceny.
Joseph said that the initiative of the acting Police Commissioner, Seelall Persaud to have a 'safe neighbourhood project' in Albouystown is "catching on because the commanders are taking a lead from him."
He is also planning to have a project of a similar nature in some communities, especially at Rose Hall Town. The commander noted that "crime has been committed sparsely around Berbice; it is not confined to one area."
With regards to drugs, he said that has always been a problem and that quite a few persons have been arrested for being in possession of small quantities. The force would soon go a step further and target some of the cultivations.
He admits that there are some problems with some of the officers "who want to do their own thing" and promised that "the indisciplined ones would be dealt with. We usually ask persons to report any illegal activities they see the police are involved in."
He was happy with the help from residents of No 50 Village in capturing a bandit, who along with an accomplice attempted to rob a family. The bandit, who happens to be a former national junior athlete, is known to the police.
The bandits who kept banging on the veranda door and claimed to be police "were not prepared for the response from the residents. That was great! We went out there and complimented them… Acts like that are good, the police appreciate it."
He said more persons should "come out and defend their property, but not to use more force than is necessary."
Around the Web