Two persons are in police custody assisting with investigations over an attempted car theft at Albion, Corentyne yesterday.
One of the men who attempted to steal the car was caught by residents and given a sound whipping. .
Stabroek News understands that at around 09:50 am, two persons at High Reef Albion attempted to steal a motor vehicle belonging to Mohammed Ali called 'Chacha'.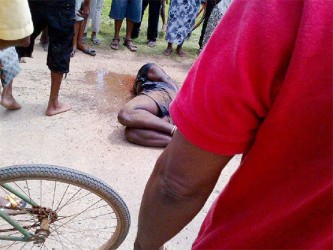 According to Shanza Ali, a niece, her uncle had his car washed and upon returning he was attacked by the two.
The niece said her uncle told her that after he returned from washing the car, he went into the garage to get a cloth to do some additional cleaning. However, the 70-year-old man was greeted by a man who choked and attempted to gag him with the use of duct tape and a piece of cloth. The man fought for his life but the bandits managed to seize his car keys, the niece said.
She added that a relative who resides next door heard the commotion and called out to her husband. When her husband arrived on the scene, another of the bandits who was guarding the area showed him a gun. The said gun was later recovered and found to be a toy gun.
It was also stated that after the relative saw the gun he took his wife and children to his in-law's residence for safety. It was then, after hearing what was happening they raised an alarm. Upon hearing the piercing alarm the bandits took off.
However, angry residents gathered and combed the area for the men. Stabroek News understands that the residents burned the bushes after they were told that the bandits ran through the area.
Residents later caught one the bandits at the head of "Plant lady" street and he was given a sound thrashing before being handed over to the lawmen who were summoned to the scene. The other bandit managed to escape.
Meanwhile, the elderly man, who has resided in the community for over forty-two years was severely traumatised by the attack. The man still bore marks of violence around his neck and could hardly speak.
Charges are expected to be laid against the bandit shortly. Police are continuing to hunt for the other attacker.
Around the Web