The legal fraternity of the region was yesterday rocked by the murder of well-known Trinidadian Senior Counsel Dana Seetahal who was gunned down in Trinidad early yesterday morning in what appears to be a well-planned hit.
Seetahal came to prominence locally when she was appointed as one of the three regional commissioners on the 2012 Linden Commission of Inquiry (COI) but she was also well known among the Guyanese legal fraternity since she lectured to many of the younger lawyers and also commented on local criminal proceedings. Her book on Caribbean criminal law procedure is well known and highly regarded.
Crime Stoppers in Trinidad has offered a reward of TT$1 million for any information leading to the arrest and conviction of those involved in the murder.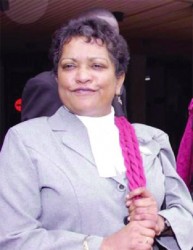 According to the Trinidad Express, at about 12:05 am yesterday, Seetahal was in her Volkswagen SUV proceeding north along Hamilton-Holder Street, Woodbrook when upon reaching the vicinity of the Woodbrook Youth Facility, two vehicles pulled alongside her causing her to come to a stop. One of the vehicles – a Nissan Wingroad – then drove ahead a short distance and pulled across the road, blocking it.
The Express reported that the other vehicle which was described as a panel van pulled alongside and the occupants of that vehicle pulled out their firearms and opened fire on the SUV. The two vehicles then sped off and made good their escape. Residents, on hearing the gunshots contacted the police and emergency health services. However, despite their swift response, when they arrived the senior counsel and Trinidad Express columnist was dead —- slumped along her driver's seat.
The report said that police suspect that because of the nature of the incident, it was a "hit" arising out of the Senior Counsel's involvement as a prosecutor in the Vindra Naipaul-Coolman kidnap and murder case. Security is now being provided for the judge and attorneys involved in the case.
Acting Commissioner of Police Stephen Williams told the newspaper: "It's shocking. Crime is a concern especially violent crime. It's a shocking incident, one you least expect. I had a conversation with her at around 12.45 pm on Saturday and everything was fine. We need to work as a country together," Williams said.
Best and brightest
"It is a reprehensible act which has robbed us all of one of our nation's best and brightest daughters. Even those who never met Dana Seetahal would recognise her through the life she lived and the proud legacy now left," Trinidad Prime Minister Kamla Persad-Bissessar said in a statement hours after the incident.
In the statement, the Prime Minister said that there is an abyss of loss and sadness for this brutal removal of a sister, friend, legal luminary and fearless, independent thinker on national issues.
"As Prime Minister, I am resolutely committed to meeting the viciousness with which Dana Seetahal's brilliant life was cut down on the terms she would have wanted and fought so courageously and fearlessly for every day. Dana Seetahal would have uncompromisingly sought justice and made her voice known," the Prime Minister said.
She added that she had enjoined Minister of National Security Gary Griffith to ensure that every resource of the law enforcement machinery of the state is utilised in relentless pursuit of apprehending those involved in "this most dastardly and heinous act." Persad-Bissessar also convened an emergency meeting of the National Security Council which she heads. The Prime Minister said she spoke to the country's Chief Justice Ivor Archie and they agreed to meet in order to devote urgent attention to necessary reforms in the criminal justice system and related security issues.
"Dana's tragic passing brings to an end the work and life of a legal and academic giant whose contributions to our nation were far from complete. The legal profession, and indeed our country and region have lost a truly remarkable daughter of Trinidad & Tobago," the Prime Minister lamented.
'Tragic and violent'
Many others expressed similar sentiments. The Law Association of Trinidad, which Seetahal once headed, in a statement to the media said that she has contributed significantly to the development of the criminal law, practice and procedure. "She was a distinguished senior member of the legal profession. She served as a Magistrate, State Prosecutor, Indepen-dent Senator and defence attorney at law as well as a long standing Criminal Law Lecturer at the Hugh Wooding Law School," the statement said.
The association said that Seetahal was known for her fearlessness, integrity and independence and was a champion of reform of the criminal justice system. The body expressed concern about the level of crime in the country while condemning the murder.
Trinidad's National Security Minister in a statement said that his ministry has pledged every resource necessary to solve the murder. "We will not rest until those who have committed this most unspeakable act is brought to justice," he said. The country's Attorney General Anand Ramlogan said of Seetahal: "She was the quintessential Trinbago-nian. She had a carefree nature, was very public spirited and had a well-respected acumen."
According to the Trini-dad Express, Ramlogan noted that Seetahal served the country in several capacities: as a former Independent Senator, a lecturer at the Law faculty and as a defence counsel. But she was also his personal friend. His last conversation with her, he recalled, was Saturday evening. "The legal profession has lost a giant. She had a piercing intellect, a very pragmatic approach to her work and a wonderful sense of humour," he said.
Ramlogan recalled her pride at owning her own building in Port-of-Spain where she housed her office. "She had a big dream and she was finally able to achieve it," he said. The minister stated that apart from her friendship, the Ministry of the Attorney General has lost critical support for on-going work it was doing. "Hers was an unbiased, independent voice that the nation looked to for guidance. Her murder is tragic, horrible and heart-rending. May her soul rest in peace," he said.
Opposition Leader Dr. Keith Rowley said that the killing "represents a new low in what we are experiencing. She was a national asset functioning in the criminal justice system, this should scare every single citizen in the country."
 'Shocking'
In Guyana, retired Chancellor of the Judiciary Cecil Kennard, who sat with Seetahal on the Linden COI, told Stabroek News that he was shocked when he was informed about the killing by another fellow commissioner on the COI, retired Justice of Appeal Claudette Singh. "I am shocked because we worked together for six or seven weeks", Justice Kennard said recalling that she was quite a pleasant person.
"I don't know which person in their right mind would want to do something like that," he said while noting that Seetahal was just a prosecutor in the murder/kidnap case and that she could have only presented the case as presented by the police.
President of the Guyana Bar Association Ronald Burch-Smith, who served as a secretary to the commission for part of the Linden COI, pointed out that Seetahal would have taught him and most of the lawyers who studied at the Hugh Wooding Law School in the past 15 years. He said he got to know her better during the COI and it is difficult to believe that she was gunned down. He expressed hope that the perpetrators would be brought to justice.
Burch-Smith said that the Senior Counsel's text on criminal procedure in the Caribbean, which is now in its third edition, is still being used at the law school as it is extremely well written and encompasses cases and information from The Bahamas to Guyana.
"She was a consummate professional woman, strong and fearless in her professional pursuits. She was a lawyer, an academic and a politician," was how Attorney-General Anil Nandlall described Seetahal in a tribute on his Facebook page. He noted that as an academic, Seetahal has made an indelible mark on the lives of students at the Hugh Wooding Law School. According to him, her book, Criminal Practice and Procedure in the Commonwealth Caribbean, remains the only academic work on that topic in the region
"I enjoyed a good professional relationship with her. Her death is a tremendous loss to the legal fraternity not only in Trinidad and Tobago but indeed the entire Region," he said.
Attorney-at-law and leader of the Alliance For Change Khemraj Ramjattan described her as the foremost authority on Caribbean criminal law procedure. "This is shocking news to me, I am totally stunned by it…." Ramjattan said. He recalled that in the last conversation he had with her, she requested copies of any decision within the criminal law procedure and evidence arena that was made in Guyana. "This is so shocking. She was a powerful advocate and a very, very brave girl," he said.
Seetahal was not shy in speaking out on issues and did so many times in her column in the Trinidad Express. She was a well-respected voice on many issues but more particularly on the legal front.
In 2012, in Stabroek News' 'In the Diaspora' column, Seetahal criticized acting Chief Justice Ian Chang's ruling quashing the advice of the DPP to charge then Police Commissioner Henry Greene with rape while stating that the effect of the ruling would be that any accused person in Guyana can now go to court and seek a stay of a criminal charge. "The way is now clear for any accused person in Guyana to go to court seeking a stay of any criminal charge. One wonders what the CCJ (Caribbean Court of Justice) will say to this – if they get the chance," she wrote.
The column originally appeared in the Trinidad Express and Seetahal noted that the Guyana DPP like her Trinidad counterpart, has the power to institute criminal proceedings against any person before any court other than a court martial and this leads to a situation where the DPP may advise the police to institute a prosecution and "the police would do so."
She had noted that in a similar case in Trinidad in 2006, T&T Chief Justice Satnarine Sharma sought to block the laying of perversion of the course of justice charge against him which went all the way to the Privy Council and which in a seminal ruling dismissed his appeal. Justice Sharma was charged shortly after in Trinidad.
Seetahal had been an independent senator, i.e., one who is appointed by the President of T&T but who is not aligned to either of the two political parties in parliament, for almost eight years.
During an interview with the Sunday Stabroek around the period of the Linden CoI, she had said that she taught at the Trinidad law school for twelve years in the areas of criminal practice and procedure, and evidence and drafting. She had said that she studied Guyana's laws and as such was familiar with the country's criminal procedures.
In her column on the Greene issue, Seetahal had indicated that the matter should have been tested by the Court of Appeal, but during the interview with Stabroek News, she said she had since understood that Guyana's laws are slightly different in that regard. She had referred to the Satnarine Sharma matter and noted that an attempt was made to stop the prosecution, but in the first instance it was the High Court which stopped it.
An appeal went up to the England-based Privy Council which ruled that it would be a very rare thing for a prosecution to be stopped because it is in the public interest that a criminal trial be heard as a criminal trial. It ruled that only if there was evidence of clear political manipulation and interference would that occur. "And so I felt in this case, there was no such evidence and the proper forum for that matter was the courts – that would be the Magistrate's Court and the High Court," she had said of Greene's case.
Seetahal had said she planned to cite Justice Chang's judgment in the next edition of her book and added that she knew Justice Chang who was a year ahead of her in law school, and her comments did not mean she has anything personal against him.
Seetahal had related in the interview that she was not married and did not have children but she was a "very long suffering" aunt of fourteen and has had some deep involvement in their lives. She had her own chambers and mentored many young lawyers.
Around the Web