The Ministry of Tourism launched the inaugural Guyana Festival celebrating local music, dance, food and art and craft on Friday with plans in train to host the three-day festival at the Guyana National Stadium from August 8-10.
The event will be marketed in North America and the Caribbean to highlight Guyana's diverse cultural heritage and its tourism product, a report from the Government Information Agency (GINA) said.
At the opening on Friday, held at the Guyana International Conference Centre, President Donald Ramotar said the festival will demonstrate to the world the advantages of living in a multi-ethnic, multi-cultural society with African, Asian and European influences combining to form a single and unique Guyanese culture.
"When you sit there and enjoy the African and Indian drumming and the fusion dance, we must thank our fore parents for the strength and resilience to keep alive under difficult circumstances, our culture," he said.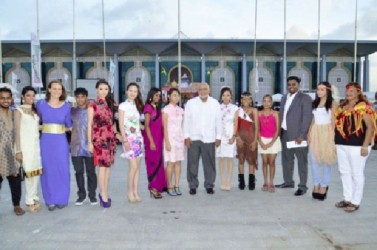 Ramotar acknowledged the need for material things to boost Guyana's economy, but also pointed out that culture plays an important role in identity and he hoped that the festival will awaken creative talent in the youth. "The quality of life is not only measured by the quality of material things, but it is also measured by the development of our culture…," he said.
Echoing his view, Minister of Tourism, Industry and Commerce, Irfaan Ali said patrons can expect a cultural extravaganza at the festival. "…We want to bring thousands of Guyanese and non-Guyanese all across the globe to celebrate with us this wonderful and rich history and culture," he said. Billed as a family event, the festival will showcase craft, art, culinary delights and will also boast celebrity and demonstration tents, and concerts in the evenings.
A playground will also be erected for small children.
On Friday, August 8, the opening ceremony will showcase a fusion of Guyanese cultures comprising various dramatic performances from drama groups, craft, poetry, dance and painting. On Saturday, August 9, local celebrities like Dave Martins, Sammy Baksh, Terry Gajraj will perform along with Guyanese-born international singer Eddy Grant.
The agenda also includes a games day which will see communities coming out to compete in cricket, football and other activities to amass a number of trophies and other prizes.
The festival will close with a culinary cook-off competition of traditional Guyanese cuisine, like duck curry, pepper pot, cook-up, metem-gee and Guyana black cake, followed by a grand concert aimed at promoting the next generation of local musicians. Jumo "Rubber Waist" Primo, Adrian Dutchin, Melissa "Vanilla" Roberts and others are expected to perform.
Patrons can purchase a Guyana Festival 'passport' costing US$15 or $3000 to allow them entrance on all three nights and to accumulate other benefits. In addition, a "Festival Coin" will be minted to commemorate the event and will be on sale at Kings Jewellery World, GINA said.
Around the Web