consistent with forced sex – doctor testifies 
Dr. Mohan Persaud, who was deemed a medical expert in the murder trial of nine-year-old Sade Stoby, testified yesterday that there were abrasions and lacerations on the penises of murder accused Jevon Wharton and Charles Cush when he examined them shortly after Sade's body was discovered in a drain.
Wharton, 23, and Cush, 21, are on trial before Justice Navindra Singh for Stoby's murder in November 2007 at Mocha, East Bank Demerara. The duo, 16 and 14 years old, respectively, at the time of the killing, have pleaded not guilty.
On Friday, November 2, 2007, Stoby left school after it was dismissed and headed for her Barnwell North, Mocha home but never arrived. Two days later, her body was found a short distance away from her home in a drain at Sixth Field, Barnwell, Mocha. Her father Eric Stoby and her brother Karlon Stoby made the gruesome discovery.
During his testimony yesterday in the High Court, Persaud said on November 4, 2007, three individuals visited his clinic at Grove, East Bank Demerara, where he practised medicine and one of them identified himself as detective constable Devon Bowen.
He said he examined Wharton, and Carlos Hubbard—who was subsequently released from police custody after no evidence was found against him—separately and discovered lacerations and abrasions to the head and shaft of Wharton's penis. There was no marks on Hubbard's body.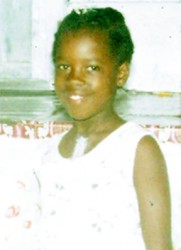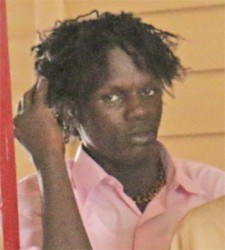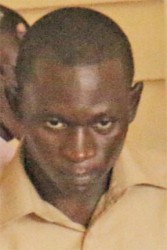 "When I examined the uncircumcised penis it revealed lacerations—cuts—to the head of the penis… there were also abrasions, scrapes, to the head and shaft of the penis," he said, speaking of Wharton's examination. He said the lacerations could have been self-inflicted or by sexual intercourse, adding that the abrasions could have been the result of an allergy from the latex in condoms or by "forced sexual intercourse."
Persaud further stated that he examined Cush's body the next day and found multiple vertical lateral abrasions to his left shoulder in addition to several abrasions to his penis. He said this was indicative of friction due to sexual intercourse, noting that given the nature of the scrapes it could have occurred between two to six days before.
His medical report was admitted and marked as an exhibit in the trial by Justice Navindra Singh. However, defence attorneys George Thomas and Raymond Alli objected to allowing Persaud's medical report on Hubbard read in the presence of the jury, stating that it could be prejudicial to their clients. Their objections were overruled by Singh.
Senior State Counsel Judith Gildharie-Mursalin asked Persaud if he would expect to see such abrasions on somebody who had sex with a nine-year-old girl. He said yes.
Government Pathologist Dr Nehaul Singh was also called as a witness in the trial. He said when he performed the post-mortem examination on Sade's body on November 5, he discovered that her body was bloated, her eyes were bulging, her hands and feet were wrinkled and there was haemorrhaging from the head and neck area. He also stated that her brain had started to decompose. There was also blunt trauma to her head and chest, while thick black mud was lodged in her trachea and stomach.
He further stated that there was bruising to the walls of her vagina, indicative of forced entry. Her hymen was torn, suggesting sexual activity just before death, he said. He also noted that her anus was protruding and the cause of death was given as asphyxiation due to submersion, compounded by blunt trauma to the head.
Under cross-examination by Alli, Singh said the protrusion of her anus could have been caused by a build up of gases in her body, which in turn pushed her intestines out. He stated that there were no signs of bruises on her anus.
Justice Singh also asked him if the bruises on Sade's vaginal area were indicative of first time sexual contact and he said yes.
Corporal Royston Blair also testified in the court after an arrest warrant was issued for him by Justice Singh last week after he failed to appear. Blair said he was present when a post-mortem examination was performed on Sade's body and samples were taken from her vagina and anus and lodged at the Providence Police Station.
He recalled that while Cush and Hubbard were in police custody, Cush had told Hubbard that he saw him, and Wharton and another man named "Tabon" at the Mocha Bridge with Sade on the day she disappeared. But, he said, Hubbard denied this statement. "Hubbard said he was working on a boat…Baird and I during our investigation checked out Hubbard's alibi and his boss said he was indeed working during that period mentioned," he said.
Blair further stated that no threats, violence or force were used to obtain a statement from Cush. He said Cush made a statement of his own free will.
Cush, in a caution statement, had admitted to witnessing Wharton and Hubbard rape the nine-year-old. Cush, in the statement, said that on November 2, 2007 he, Hubbard and Wharton went to the bridge and they carried Sade into bushes at Sixth Field, Mocha, where Wharton started to rape her. "He tek off she clothes and she tights and she underwear," he said.
Wharton, in a caution statement, had also admitted to having sex with Sade. In the statement, he said that on November 5, 2007, he met Sade on the bridge and they walked "up to how far no more shops were and we went in the bush and Sade the little girl tek off she clothes" and they started having sex. And when they were finished, while she was putting on her clothes, he said, she slipped and hit her head. "I pick up my bicycle and ride away. On Saturday I been back there to see if anything happen to she and I see her dead," he added.
Gildharie-Mursalin in her opening address had stated that "all we have to prove is that they [the accused] had intentions to rape her. We don't have to prove intention to kill. This was a felony murder. We only have to prove intention to rape."
The trial continues today in the High Court.
Around the Web