A sex worker was yesterday remanded to prison for allegedly robbing a man of a cellphone and cash.
Junior Miller, a transgender woman also known as 'Alisha,' 27, appeared before Chief Magistrate Priya Sewnarine-Beharry, where she pleaded not guilty to the charge.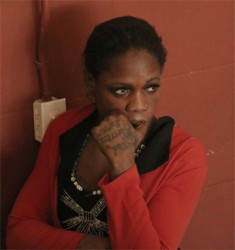 According to Prosecutor Bharat Mangru, on April 27th, around 10pm, Intiaz Bacchus was approached by Alisha, who dealt him a blow to his head. Mangru related that Alisha then held onto Bacchus' shirt and took his phone, worth $70,000, while an unknown other person relieved him of $10,000 cash from his pocket.
Defence Counsel Paul Fung-a-Fat rejected the submission made by Mangru, claiming that it was a "total fabrication." He also related to the court that even though Alisha has undergone a male to female surgery, she had been placed among male inmates.
Mangru objected to bail for the accused based on the seriousness of the matter and also because it was his belief that Alisha would not return to court if released.
As a result, Alisha was remanded to prison until May 19th, when the case will be called before Magistrate Judy Latchman.
Around the Web