Jamal Waterman, the child who drank a cocaine-laced multivitamin tonic which killed four persons including his mother and brother, was yesterday discharged from the hospital.
His father, Wilbert Waterman told Stabroek News that the boy is recovering well and as such the doctors discharged him. He said that the doctors have told him that everything is alright.
According to the elder Waterman, his 12 year old son is talking and moving around.
It is believed that the child survived the tragedy after he spat out the liquid and drank juice to rid himself of the numbing taste. Former army officer Alex Blair, 40, his reputed wife, hairdresser Simone Price, 36, their son, Jahaquel Blair, 6, a student of the St Pius Primary School and a family friend Natasha George, 36,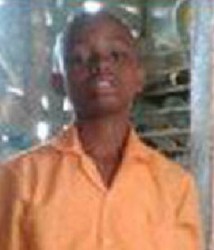 were not so lucky. They died at varying times on Sunday after consuming the tonic.
Stabroek News has since been told that the autopsies on those who died will be performed tomorrow. It is unclear what the cause of the delay is.
Police said in a statement that investigations have so far revealed that the bottle of SSS Tonic with the cocaine dissolved inside, along with casareep and chicken foot had been left at the house by a man known to them for a female guest from overseas to take back when she was returning.
The woman, according to the police, did not carry the items and during Sunday morning, the victims consumed some of the SSS Tonic which had been left in their possession.
The Blairs and George live opposite each other on Cocorite Street, East La Penitence and were friends for many years. Stabroek News was reliably informed that Price and the overseas guest identified as "Candy" were sisters.
The person who took the tonic and other items to the home is the cousin of Price. Police are still looking for him.
Around the Web